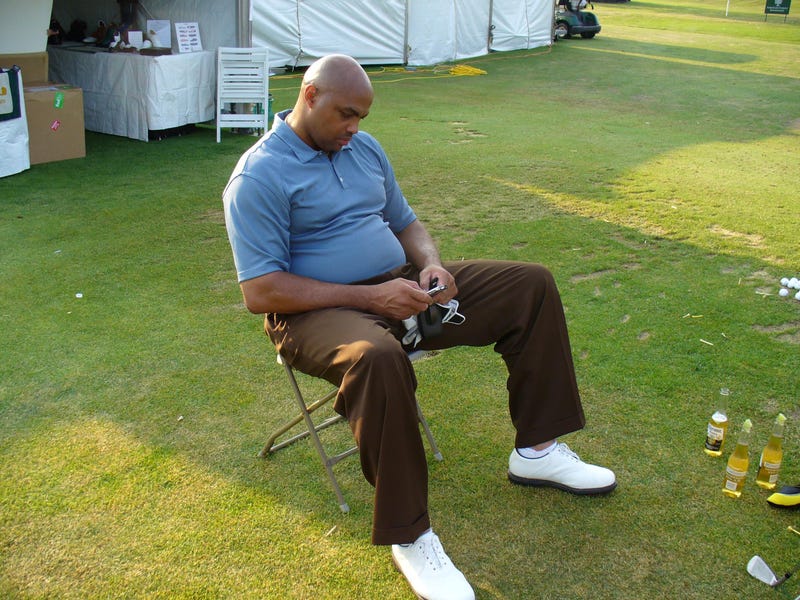 When NBC Sports asked if I'd blog portions of this year's American Century Championship celebrity golf tournament, of course I said yes. At what other event would I get a chance to interview FOUR participants of Dancing With the Stars? But gradually more details emerged, and I was not amused. The shocking truth: They wanted me to take my laptop out on the course and live blog Charles Barkley's rounds in the event. And I was just foolish enough not to back out.
As you read this, I'm out near the sixth tee, typing furiously, having just mended the wing of some poor goose. Many wild fowl will perish this weekend I'm afraid, some as a result of Barkley's errant drives, others from trampling each other trying to flee. Hell, Barkley may try to catch one for a snack. His heart is as big as the sprawling Edgewood Golf Course on which this tournament is played, and his basketball talents were of course immense. But as a golfer he's, um, not good. An annual fixture here, Barkley is never far from last place. Said Kevin Nealon in 2006 after a round with Sir Charles: "I think he's right in contention to win this thing not a chance in hell."
I spotted Barkley working feverishly on his swing at the practice tees on Thursday (pitctured), and decided to introduce myself. I'd never met him before, and didn't know what to expect. But he extended a hand and smiled. He said he was glad to meet me.
ME: "NBC has sent me to live blog your rounds this weekend, and I just wanted to let you know in advance."
BARKLEY: "Live blog? What's that?"
ME: "I'll be out with my laptop on the course, following you around and writing about what I see."
BARKLEY: (Looks genuinely befuddled).
ME: "Then it will appear on the site right away."
BARKLEY: "Sounds good. Thanks for taking the time."
Then he continued scrolling messages on his phone, which he had been doing when I walked up.
I have no idea how this is going to turn out, but the results can be found here.
Tonight I'll haunt the MontBleu — host resort of the American Century — where I certainly will NOT find Barkley at the gaming tables.
American Century Championship Official Site
Most Celebrities Just Want To Top Barkley In Celebrity Golf [MSN]