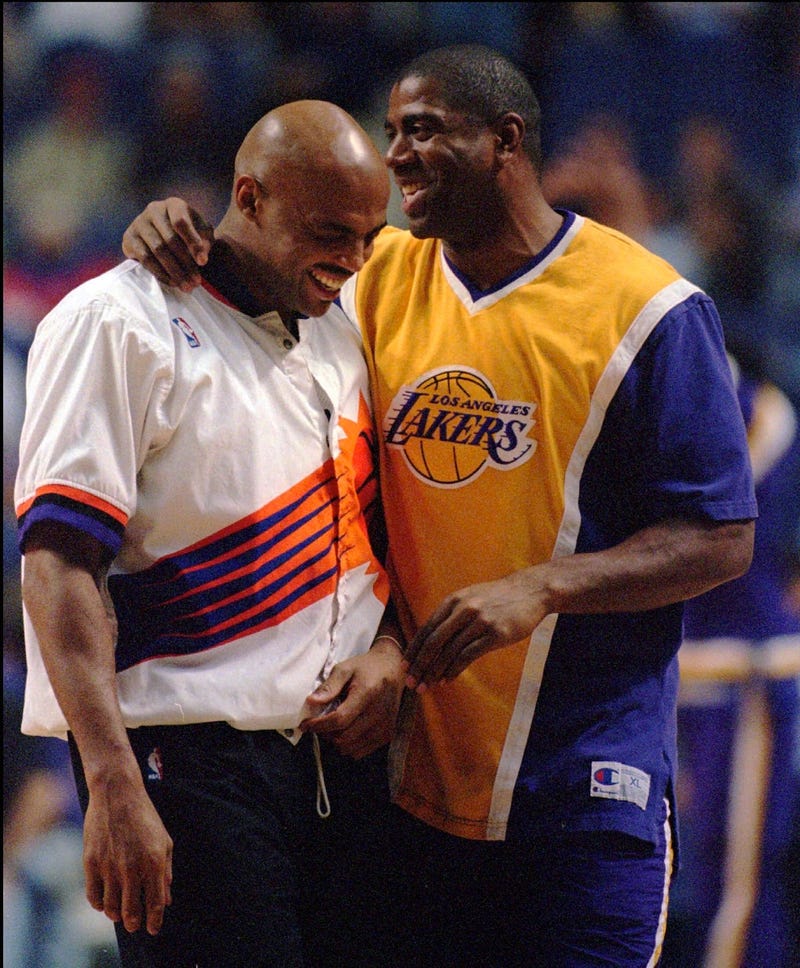 Every morning, the fine folks at Sports Radio Interviews sift through the a.m. drive-time chatter to bring you the best interviews with coaches, players, and personalities across the sports landscape. Today: Another fantastic Charles interview.
Charles Barkley joined 790 The Ticket in Miami on The Dan LeBatard Show with Stugotz and Stan Van Gundy to discuss his criticism of Dwyane Wade, the Los Angeles Lakers being an old team, the Lakers having zero chance of winning an NBA title this year and fans being allowed to vote for the All-Star team.
Is Dwyane Wade mad at you?
"Well I hope Dwyane is not upset. I didn't say that Dwyane was a bum and he couldn't play. He doesn't look the same, physically, to me. If you look at his numbers across the board, his numbers are down. He's been in the league a long time. I said, 'I am not sure if he's injured or the wear and tear started taking its toll on him.' He just doesn't look like the same guy. I didn't say that because I saw him play in person. It's not a fair estimate watching it on television, but what I said when I saw him in person was that he didn't look explosive. Maybe he's hurt or maybe he's slowing down, one of the two. He's still a very good player, but I think my criticism wasn't personal. I didn't say the guy was a bum and he couldn't play. I said he doesn't look the same to me from an explosion standpoint. Either it's the wear and tear or the injuries are taking their toll."
You have been saying all year that the Lakers are old. Are you laughing now that Kobe Bryant just realized that?
"When I broadcast the game two weeks ago, Steve Kerr said I was talking to the Lakers before the game and Kobe said he's not sure what team they are going to get night after night. I said they are going to get an old, slow team every night. I just think Kobe got around to TiVoing the games and just got around to watching it. If he had to watch the show, I think three weeks ago when I broadcast the game against the Knicks, I said, 'Man these Lakers … are old and slow on television. They are even older and slower in person."
You don't think the Lakers have any shot of winning an NBA title?
"None. Zero. Zero chance. I think Oklahoma City, Memphis and the Spurs are the three best teams in the West. I still have my concerns. Everybody is on the Clippers' bandwagon. I don't like their half-court offense. I don't like their free throw shooting. I love Chris Paul. I said it for years. I thought Jason Kidd was the best leader in the NBA. I passed that mantle, in my personal opinion, to Chris Paul, but I don't like their half-court offense. I don't like their free-throw shooting, and I've said this about the Knicks, everybody is on their bandwagon.
"If you look at [the Knicks'] stats, they've only rebounded like three teams, even when they had that gaudy record. They only lead a team in rebounding like three times. I don't think you can live by 3s and not rebound the ball and that can last for the entire season. They got a good, solid team, but I always think 3-point shooting backs down to the averages. They were on a crazy streak for the last month. If you look at their defensive numbers, they were great in November, but they've been gradually giving up more numbers and they haven't been a good rebounding team all season.
"I'm just trying to figure out who's going to give Miami competition in the East, and right now I am very disappointed in the Celtics. I've been shocked with how bad they have been playing. I'm waiting to see when Derrick Rose comes back, 'cause you can't beat Miami on the perimeter. LeBron is just too good on the perimeter, but if you can physically beat them up inside like Dirk Nowitzki and Tyson Chandler did, that's their Achilles heel 'cause they put so much pressure on LeBron to get every rebound and guard the big guys. That's the chink in Miami's armor, it's their lack of size, and you wonder how LeBron is going to wear down trying to guard big guys and rebound and make every play."
Do you believe the Nets still want Dwight Howard in Brooklyn? Do you believe Dwight Howard is going to start the All-Star game?
"Let me tell you something, I have been very disappointed. I like Dwight Howard a lot as a person, but I have been very disappointed with the whole way he handled the whole Orlando thing. If he's hurt, he needs to come out and say he's hurt. Last week we went over the All-Star starters. One reason I don't think the fans should ever vote is because they just vote for their favorite players. Listen, these are two guys I always have liked. I'm a big Kevin Garnett fan. But there's no way in the world he should be starting the All-Star game right now. And the same way with Dwight Howard. Those fans who have penciled those two guys in (to) start … That's a travesty to be honest. I like Dwight Howard, but he ain't played like no All-Star this year and Kevin Garnett has not played like an All-Star.
"That's why the fans do a disservice to a guy like Anderson Varejao, who's leading the league in rebounding, who's been outstanding. The coaches may have to put him on the team, but the fans should reward those guys. Zach Randolph has been great all season."
This post, written by Steven Cuce, appears courtesy of Sports Radio Interviews. For the complete highlights of the interview, as well as audio, click here.
More from Sports Radio Interviews
• Alfred Morris is sticking with his 1991 Mazda.
• Vontaze Burfict tries to ignore the haters.
• Hakeem Nicks's injury killed the Giants.