In his first interview since being released from prison on Monday, Charles Barkley talked to WIP radio in Philadelphia, where he quickly noted that Rush Limbaugh has a big ass, and needs to be punched.
The exchange with host Howard Eskin went like this.
CB: "Since I've been in the joint, what have you been saying about Rush Limbaugh? You all got to get that fat ass off the brother, you hear me?"
HE: "I haven't been saying anything about Rush. I've stayed away from that."
CB: "You need to speak up about that. Someone's got to tell (Limbaugh), sit your fat ass down somewhere and stop embarrassing the country and embarrassing yourself."
G/O Media may get a commission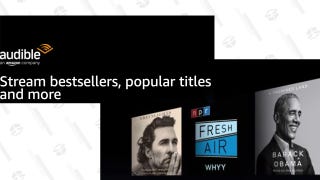 FREE
Audible Premium Plus 3-Month Free Trial
HE: "I don't really ... why even respond to him? The White House should just ignore him."
CB: "I am so close to flying to wherever he is and just punching the hell out of him. He is driving me nuts! There's a lot of idiots out there and Rush Limbaugh has a lot of influence on people."
HE: "Yeah, I guess you're right. But I want to keep this fun."
Eskin's idea of fun, by the way, was asking Barkley earlier in the interview if anyone in prison had tried to make him their boyfriend.
CB: "You're a funny brother."
HE: "With that ass, I might think that someone would try to be your boyfriend."
CB: "You're confusing me with Rick Mahorn."
Barkley then went on to say that his three-day stay in Maricopa County's Tent City jail (he slept in a tent over the weekend! It was like camping!) was the best thing that could have happened to him.
"It was really good for me and let me explain why I say that. I was thinking I've been in the NBA since 1984, so we're talking 25 years and I would conservatively estimate that I've been drinking 100 of those nights and I'm being probably on the bottom end of that and I've gotten behind the wheel of a car. So to go 25 years that many nights drinking and driving and not get a DUI, not kill someone or kill yourself, I think that was a very valuable lesson for me to learn and I'm going to use that in the future."
Barkley also said he "did a lot of reading" in prison, even though he was only there a total of 36 hours. "And I did my own reading," he said. "It wasn't like college."
Barkley On His Time In The Joint And Wanting To Beat Up Rush Limbaugh [Sports Radio Interviews]