Charlie Weis got a little snippy last week after The University Daily Kansan, Kansas's student newspaper, published a cover illustration of a tiny Jayhawk clinging to a goalpost being carried by a burly Kansas State Wildcat. The cover art, which ran under the headline, "Road Kill Ahead," was a clear indication of what awaited the Jayhawks when they traveled to Manhattan last week to play their in-state rivals.
That Kansas was a 25-point underdog didn't matter: Weis didn't want those meddling kids putting down his team:
Just 11 minutes later, Weis followed up to let everyone know he was serious about not being serious that he was taking the student paper's swipe seriously, even though it didn't bother him, in all seriousness:
G/O Media may get a commission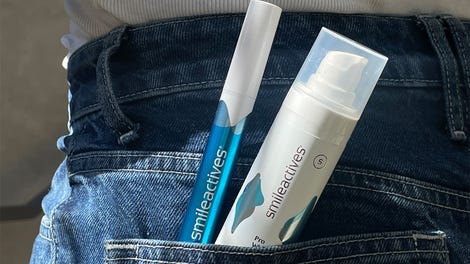 58% off
Whitening Powerhouse Pen & Gel Duo
The Jayhawks kept it close for a half and wound up getting nipped, 56-16. And yesterday, KU's athletic department met with the writer whose story accompanied the cover art to remind him and the rest of the paper's staff to be careful. Here's how the Daily Kansan reported it:
Katy Lonergan, director of football communications, said she was looking out for the writer and reminded him that he had the same access of any reporter.

Sports writer Blake Schuster, a junior from Chicago, said the conversation was meant to interfere with his work.

He said Lonergan told him it would be in his best interest not to ask questions.

Before the weekly football press conference, Lonergan invited Schuster to a meeting in her office with Mike Cummings, assistant director of communications for KU Athletics. During the meeting, Lonergan warned Schuster about possible negative reactions to last Thursday's Kansan cover art and story. She told him these negative attitudes could be directed toward him.
There was only one person answering questions at that weekly football press conference: Charlie Weis. Lonergan insisted she did not instruct Schuster to avoid asking questions, and that she was not trying to make him uncomfortable. Just that, you know, in the event Schuster did decide to ask a question, he should "be prepared for a possible change in tone." It wasn't a threat, see. Just a gentle suggestion.
Weis is off to a 1-4 start in his first season at KU. Here's a change in tone, Kansas: The shitty, incompetent coach of your shitty, incompetent football program had his pwecious fweewings hurt by the fucking school newspaper, and in response, your idiot factotum—instead of telling Weis to shut the fuck up and to concentrate on not losing by 40 to State next time—decided to be a smarmy, bullying little PR shit. Way to go, assholes.
KU ATHLETICS CAUTIONS REPORTER TO NOT ASK WEIS QUESTIONS [Daily Kansan]