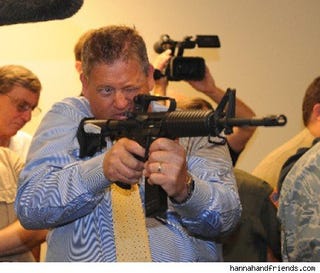 You thought Chuckles was out of your life forever, huh? Guess again, bozos, because this guy hasn't even started making everyone's life miserable. Pete Carroll, Touchdown Jesus, Bears fans....no one will escape the wrath of Weis.
Let's take a look at the people who have a possiblelegitimate beef with him:
Pete Carroll: Weis said his off the cuff comments about USC's coach were taken out of context, but I'm not sure how "He's doing it in Malibu" is out of context. (It being, sleeping with a grad student.) Carroll denied it and Weis apologized (and I guess the entire country has agreed to drop the whole thing?) but true or no, Carroll can't be amused about people asking where he spends his nights. Especially if it's Reggie Bush's old house.
Notre Dame fans: Well, we know why they hate him, but even running their old coach out of town on a rail hasn't stopped Weis from dragging the Irish down further. He convinced their stud junior quarterback to leaving school because no one can coach him up like good old Chuck did, and naturally stud junior wideout Golden Tate was not far behind. So instead of watching that dynamic duo smooth over a tough transition year, expect a more Keystone Cops-style offense in South Bend next season. Yikes.
Clausen/Tate Theoretically, these young men are going to be very rich, very soon and they still believe that Weis is the reason for that. But what if Clausen had gone to USC instead? And Golden Tate had ended up at ... say, Alabama? Or if Weis had simply partnered them with more competent teammates that could have honed their talents, given them a better place to showcase those skills, or possibly given them a reason to return for one more year of seasoning that could have improved their visibility and draft status. (Eh, it doesn't matter. They're still filthy rich.)
Ron Turner: Charlie's college football grave isn't even filled in yet and he's already lobbying for another NFL job. A job that currently belongs to Turner, the Chicago Bears offensive coordinator. The Bears' offense is ... how you say? ... pathetic, so even if Weis can only recreate a fraction of his New England magic that would be a welcome sight at Soldier Field. Of course, if it turns out that sans Brady/Belichick Weis is not much of an offensive genius, well ... hasn't that city suffered enough?
Cincinnati fans: Remember that dream you had of Brian Kelly being the one man who could maybe overcome all that poll nonsense and actually lead your tiny school to an improbable, yet inspiring, national championship run? Yeah, sorry about that.
The economy: Weis was not just Notre Dame's head coach, he was also their offensive coordinator, which means his absence leaves the school without a single human being who can hold a clipboard and shout numbers. Or anyone who has ever played a Madden video game, apparently. That's the reason the Fighting Irish gave for declining all bowl invitations and that decision means either Detroit or Mobile will lose close to $500 in local business revenue. (Also, they think they're better than everyone else and can turn down honors most college athletes would be grateful to accept. Seriously, they should be banned from bowls for five years. Screw those guys.)
So I guess, the only people who aren't furious with Weis at this point are bloggers who enjoy attacking him for being a selfish loud mouth. Bless that man.
The more Charlie Weis talks, the less marketable he becomes [Chicago Tribune]