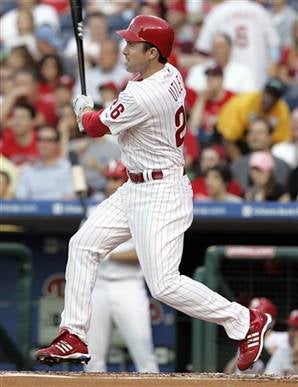 Chase Utley is lighter than air, can charm the birds out of the trees and never forgets your birthday. His blood smells like cologne. He also makes diving, backhanded catches, has hit 21 home runs, will run into the catcher full tilt and is not opposed to bunting his way on base. On Monday, his heroics led the Phils to a 5-4 win over the Reds, Philadelphia improving to 34-25, 1 1/2 games ahead of second-place Florida in the NL East. Stay thirsty, my friends.
Utley of course is unconscious, with his homer on Tuesday making it seven homers in his past eight games (he already had a stretch of seven homers in seven games April 17-23). More Utley adulation over at Phillies Nation, including a nice photo of one of his diving catches. And The 700 Level also chips in right here. They're declaring him the frontrunner for NL MVP, and who are we to argue? Although Chipper Jones is still hitting over .400 (2-for-4 to increase his average to .407 in the Braves' 7-5 win over the Marlins). Meanwhile, the Reds' Ken Griffey Jr. sat out the game with "general soreness," remaining at 599 career homers. As I recall, didn't it also take him forever to go from 499 to 500?
• The Hat Squad. Um, what the hell is up with this?. Don't know; don't want to know. Baltimore beat Boston 6-3, as the Red Sox lost David Ortiz to the 15-day disabled list with a partially torn tendon in his left wrist.
• Jason And The Argonauts. The pinch-hit grand slam, thought to be extinct in the wild, was discovered in St. Louis on Monday when Pittsburgh's Jason Michaels did it to tie the game 4-all. Jason Bay then doubled home the winning run in the eighth.
• Mighty Casey. Casey Blake single-handedly saved your fantasy team with two homers, a bases-loaded double and seven RBI — the most by an American League player this season — as Cleveland beat Texas 13-9.
• Wizard Cat Defensive Player Of The Game. Michael Cuddyer, Minnesota Twins. Wizard Cat hates greed, like when friends come over and try to muscle in on his Tender Vittles. Let this be a lesson to Derek Jeter, who tried to double down on the Twins' center fielder and was met with Epic Fail. Boom goes the dynamite! Wizard Cat gives this play: Five wands.