This just in—Illinois politicians are kinda corrupt. As you may have heard, Governor Rod Blagojevich (henceforth known as "Blago") was arrested by FBI agents on federal corruption charges, after he "put a for sale sign" on the appointment of the new Senator to replace President-Elect Barack Obama. He didn't just say "maybe we can help each other out, wink, wink" ... he flat out asked for the cash from anyone who would give it to him. Pretty ballsy. But there's more! He also tried to bully the Tribune Co., which owns the Chicago Cubs and Wrigley Field, which means Mark DeRosa will be the next United States Senator from Illinois. Wait, let's back up.
The best sports movies according to Toheeb Jimoh
Here's what really happened. The Tribune Co. is a financial nightmare with about $13 billion in debt, but as a semi-independent subsidiary of the company, the Cubs actually make money. So Tribune owner Sam Zell has been trying to sell their lone valuable asset in order to make some much needed cash. In order to do that, they were going to need help from the state to finance the deal and maybe get some grant money to upgrade Wrigley Field.
There's just one problem: Blago controls that money, but doesn't get along well with the editorial board at the Chicago Tribune. Something about them wanting him impeached? So he suggested that maybe the Cubs would get what they need to make a deal, if a certain editor at the paper found himself unemployed. Actually what he said was [PDF]:
"our recommendation is fire all those [expletive] people, get 'em the [expletive] out of there and get us some editorial support." ....

During the call, ROD BLAGOJEVICH's wife can be heard in the background telling ROD BLAGOJEVICH to tell Deputy Governor A "to hold up that fucking Cubs shit. . . fuck them." ....

Deputy Governor A told ROD BLAGOJEVICH that Tribune Owner will say that he does not have anything to do with the editorials, "but I would tell him, look, if you want to get your Cubs thing done get rid of this Tribune." ....

Deputy Governor A agreed and said that HARRIS needs to be "sensitive" about how he does it. ROD BLAGOJEVICH said there is nothing sensitive about how you do it and that it's "straight forward" and you say "we're doing this stuff for you, we believe this is right for Illinois [and] this is a big deal to [Tribune Owner] financially" but what ROD BLAGOJEVICH is doing to help Tribune Owner is the same type of action that the Tribune is saying should be the basis for ROD BLAGOJEVICH's impeachment. ROD BLAGOJEVICH said Tribune Owner should be told "maybe we can't do this now. Fire those fuckers."
G/O Media may get a commission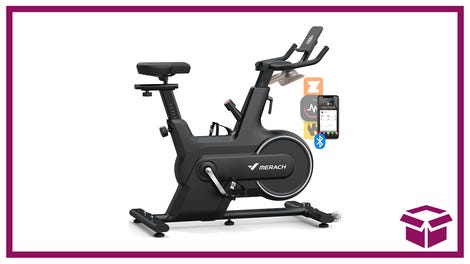 14% off + Coupon
Merach Indoor Cycling Bike
So when a newspaper complains that you're corrupt, it's not a good idea to bribe them in order to make them stop saying that you're corrupt? Congratulations, Mr. Blago. You've out cronyed the cronyist city in America.
What does this mean for the Cubs? Nothing really. The Tribune is in bankruptcy and the Cubs will (hopefully) get sold anyway. It's possible that management may be leery about making huge financial commitments *cough*peavy*cough* until the situation is more clear. But it's mostly just funny the the governor of the Cubs' own state is willing to sell out them for a little graft.
`Staggering' allegations, even by Illinois standards [Tribune]
FBI Complaint [PDF File]
Free From Tribune's Bankruptcy Filing, Cubs Proceed as Usual [NY Times]
Blagojevich charged with crimes [ESPN]