Jen Patterson was let go by Comcast SportsNet Chicago, a week after her relationship with Blackhawk Nick Boynton became public. That's a quick fall for one of CSN's "rising stars."
Patterson was originally a producer for a sports talk radio show, but you can't keep a bubby blonde off camera for long. She joined the network doing some on-air work earlier this year, including a number of Blackhawks segments, where, apparently she became chummy with Boynton.
(UPDATE: I'm informed that Patterson has not actually worked Blackhawks games. She has still done hockey segments for the network, however.)
She works fast. Boynton came over at the trade deadline last season, and only appeared in 7 games for the Hawks. But the two were spotted out and about almost immediately after Chicago won the cup, and it finally made the gossip pages last week.
Then, yesterday, it was announced that Patterson is out at CSN. No explanation, just a boilerplate statement. "We wish her the best in future endeavors blah blah blah."
G/O Media may get a commission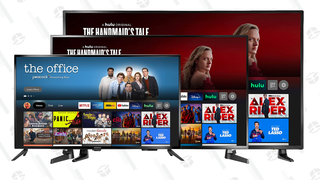 Up to 44% off
Prime Early Access - Insignia Fire TVs
No one's saying why she's out (Patterson's not talking), but we can pretty much assume it's got a lot to do with Boynton. Media members dating athletes has always been an icky subject. Derek Lowe and Carolyn Hughes carried on a relationship while both were married, leading to Hughes's suspension from FSN West and divorces for the both of them. And there's an added layer here: CSN Chicago is owned, in part, by the Blackhawks. So it's an office romance too.
Conflict of interest for Patterson? Sure. Enough to push her out the door? Both are apparently willing participants, but in this day and age it's probably best to head off any potential issues before they arise.
[h/t Disco Choo]