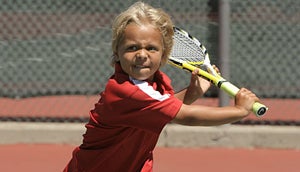 What were you doing when you were five? (My answer revolves around cartoons and mud). Sacramento-area native Jan Silva is attending a tennis academy in France, all expenses paid. In fact, the academy's owner, Patrick Mouratoglou, will pay an estimated $140,000 this year to train him. Did I mention that Silva is five?
During his afternoon practice, Jan — in academy-provided Nike shoes and clothes — scampers around the court against Mouratoglou. He nearly breaks down laughing when Mouratoglou makes him sprint from corner to corner. Not surprising for a child of kindergarten age, he also is prone to temper tantrums, racket tosses and sulking when he makes mistakes.
Just like Rafael Nadal!
Gripping a racket nearly the length of his body, Jan's fluid strokes and timing belie his age and size. He serves overhand, approaches the net to volley and can put topspin on shots, including his natural one-handed backhand.
I hear that ultrasound technology can now detect one-handed topspin in the womb. If there's paperwork to be filled out, no use wasting precious time waiting for the kid to be born.
Could This 5-Year-Old Be The Future Of Tennis? [USA Today]