Your morning roundup for Oct. 16, the day we learned that people can actually be crueler to others than we'd imagined they could. Got any stories or photos for us? Tip your editors.
What we're watching: While it's likely only of my-regional interest, the Eagles/Redskins game is on the day's viewing agenda. This is because the Eagles are 1-4. Which means that if they lose, they're 1-5 going into a bye week. And if they go 1-5, that means the 2011-12 season is over before Halloween. Which means there'll be tons of time for folks 'round here to figure out who exactly is to blame for turning a two-parade dream into an early-hockey-season-only landscape.
With the excess time, they'll figure out how best to cull recompense from said scapegoat. Maybe they'll hone in on the children of South Philadelphia. Maybe it's an elderly woman in a nursing home far, far away who took a shine to that young spitfire Vince Papale and hasn't been able to stop humming the Eagles Fight Song since during early dinner ever since. Maybe it's you.
Should that happen, tonight's season premiere of "The Walking Dead" would seem like a quaint romantic comedy starring Hugh Grant and Nia Vardalos. You wouldn't want to see that happen in these United States, would you?
G/O Media may get a commission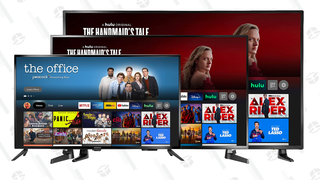 Up to 44% off
Prime Early Access - Insignia Fire TVs
Elsewhere
Nelson Cruz, Rangers wait to see who they'll beat up on in the World Series: "No one in baseball history has ever had a postseason series like the one Cruz completed Saturday night. Not the great Babe Ruth, nor Mickey Mantle, nor Reggie Jackson. No one had ever hit as many as six home runs in a single postseason series. No one had driven in 13 runs. But on a night when the home team eased much of the anxiety with a nine-run third inning, Cruz, who benefited from a checked swing call in that inning, added the final exclamation point. Rangers 15, Detroit Tigers 5. [Star-Telegram]
Texas A&M didn't seem to mind this sign that tipster James et al smuggled into yesterday's game: "In the Aggies' 55-28 victory over the Bears in front of 87,361 sun-drenched fans at Kyle Field, there were very few defensive plays that mattered. Sides totaled a collective 1,161 yards. Each play gained an average of 7.5 yards. There were touchdown passes of 68, 77, 43, 68 and 47 yards." [Austin American-Statesman] Side note: The sign was confiscated within a few fourth-quarter minutes of display.
Maybe this is why Coach Kelly was a little jittery when fans danced too close to Ms. Andrews: "Oregon quarterback Darron Thomas left the game in the third quarter after an ASU defender fell on both of his knees during a play. He was examined on the sidelines before jogging into the locker room. He returned to the field but did not re-enter the game. Backup Bryan Bennett led the No. 9 Ducks the rest of the way for a 41-27 victory over No. 18 ASU." [Oregonian]
Down goes Hopkins. Down goes Hopkins: "The post-match quotes were much rougher than the fight. 'He was faking,' Dawson said. 'I'm sorry for the disappointment for the fans. He ran from me for three years. I know he didn't want this fight. He kept talking about Philadelphia and being a gangster. He's no gangster. He's soft, he's weak.' Hopkins said, 'They set me up. It should have been a no-contest. The ref asked me if I could go on. I said I would fight with one arm, if I had to. Then he just called the fight.'" [L.A. Times]
Your Other Gheorghe Muresan Interlude:
Dear Hypocrites, Pukes and Turncoats, I'm sorry. XOXO, Don Cherry: "Cherry apologized for comments made about a trio of former National Hockey League enforcers that had them pondering a lawsuit and that set off a week's worth of withering criticism of the CBC hockey analyst. 'I gotta admit I was wrong on a lot of things,' Cherry said on his Saturday night Coach's Corner segment on Hockey Night in Canada. 'Three enforcers - tough guys, my type of guys - I threw them under the bus, and I'm sorry about it. I really am.'" [Edmonton Journal]
Here's some NASCAR news: "The 2011 Chase for the Sprint Cup championship just got real interesting after Jimmie Johnson wrecked out of Saturday night's Bank of America 500, putting the five-time defending champ in a hole that he may not be able to climb out of." [YahooSports]
Barcelona only won 3-0 yesterday: "Pep Guardiola's side were in charge of the game from the kick-off, and their possession paid off in the 11th minute when Andres Iniesta picked up the ball just inside the Racing box on the right-hand side and reversed a pass into Lionel Messi, who, with six defenders around him, flicked the ball out of trouble and dragged it past Tono before finishing from a tight angle." [Goal]
Man U player claims slurs were uttered during yesterday's match vs. Liverpool: "The Football Association will investigate claims that Manchester United's Patrice Evra was racially abused by Liverpool's Luis Suarez. Evra says the incident occurred in Saturday's 1-1 draw between the teams. A Liverpool spokesman told the Press Association that Suarez 'categorically denied' the allegation." [BBC Sport]
Today's Soccer Viewing Recommendations: Cheivo Verona vs. Juventus (Fox Soccer Channel, 9 a.m. eastern); Newcastle vs. Tottenham (FSC, 11 a.m.); Palmeiras vs. Fluminense (GolTV, 2 p.m.).
Merch: Managing editor Tom Scocca and contributing editor Drew Magary have both written books. You can buy Scocca's Beijing Welcomes You: Unveiling the Capital City of the Future here, and Magary's The Postmortal here. Now do it.