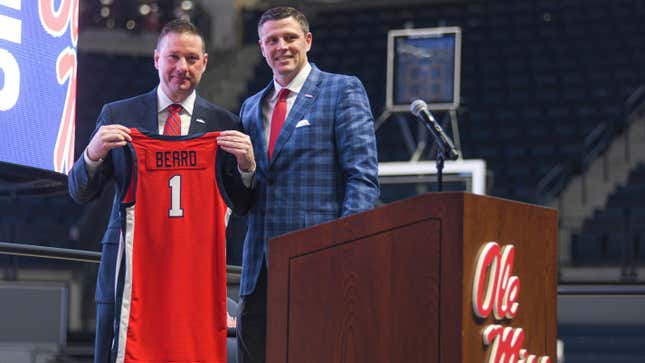 March Madness is officially here. And if you're reading this you more than likely have a game on in the background as you're working from home — or in the office — or did the smart thing and took the first two "real" days of the NCAA Tournament off. But, outside of the upsets, brackets, and copious amounts of college basketball you will be consuming over the next few weeks, this time of the year also brings about something else — coaching changes. And this year's edition is a great example of the inequality that eternally exists between Black coaches and white ones.
What made Ted Lasso's Brendan Hunt fall in love with soccer?
Will Wade and Chris Beard both recently got new jobs and Rick Pitino is back in the NCAA Tournament again while being rumored to be in consideration for the St. John's job. A Black coach could never be in either of those three men's positions given what they've done or been accused of.
Almost a year to the day that Wade was fired from LSU as their men's head basketball coach for five Level I and one Level II violation accusations from the NCAA — on top of being previously featured in an HBO documentary called The Scheme, in which FBI wiretaps detailed him discussing the payment of players — Wade was hired by McNeese State. And then they almost immediately suspended him for the first five games of the 2023-2024 season.
Tell me, have you ever seen a Black coach be that dirty and remain hirable?
Nope.
And then there's Chris Beard, who is now the new head coach at Ole Miss after being fired at the University of Texas following a he-said/she-said felony domestic violence arrest involving his fiancée, which later turned into a she-said "he didn't do it" situation.
At his introductory press conference, Beard was asked if he put his arm on his fiancée's throat. He refused to answer.
"Randi and I have agreed not to talk about the details of not only that night but kind of the nights that we went through this process," Beard said. "But what I can tell you is, much of what was reported was not accurate, and that's been proven with the case not only being dismissed, charges dropped, but also, Randi's statement on Dec. 23."
Again. What Black coach can be involved with something like this and get another job?
None of them.
The talent that Wade, Beard, and Pitino have is undeniable. So, this isn't about how good they are. What needs to be addressed is that all of this was expected given that when you're white, male, and good at your job, you're pretty much eligible to get hired again despite the flagrant blemishes on your resume.
"All we want is an opportunity to get out there and to try and a right to fail also. ... I'm sick of us having to be perfect to get the job," John Thompson once said in the 1990s.
A few years ago, college basketball watched as Black assistant coaches and middlemen became the scapegoats of the FBI's investigation into the sport — as some of them went to, and still are, in prison. The white head coaches that they were working for, or with, didn't spend a second in a jail or a prison cell, as most of them eventually got new jobs. Think about that as you watch these games over the next few weeks, as some of the people who should be on the sidelines are imprisoned because their skin is the wrong color.