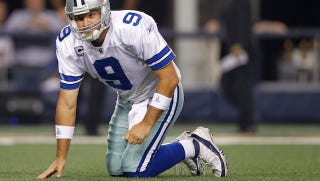 Washington Redskins tight ends: They're just like us! Chris Cooley, down-to-earth potter, also finds strange gratification in seeing Tony Romo fail. During his weekly guest spot on the LaVar and Dukes show in Washington, Cooley fed the rivalry by sharing how he really feels about the Cowboys QB:
It's so good. I was watching the scoreboard in St. Louis, and I didn't see that they'd lost really until they end, I thought they blew them out so I kind of stopped paying attention. It's amazing, amazing to watch him choke like that...

I'm just saying, I'm up 24 points in the third quarter, if I'm the head coach, I feel like I could probably just take a knee for the rest of the game, punt it away and there's no way that Detroit's gonna drive on you that many times. The only way you're gonna give up that many points is turnovers, right? It's hilarious to watch him throw pick sixes, too, back-to-back. I loved it. But it wouldn't be as good as my cage fight.
Dan Steinberg of the D.C. Sports Blog explained earlier today that Cooley was referencing an earlier spot on the show, when he'd talked for a bit about cagefighting. When asked how he'd fare against Romo in the cage, he responded, "I like to embarrass 'em a little bit. Like, take a 24-point lead, and then just play with it a little bit."
Cooley's rant has already (of course) been called "out of line," even though the rest of the country is almost certainly snicking and nodding in agreement with him. (And burning his jersey. That, too.)
The Redskins host the Cowboys on Nov. 20.

Chris Cooley on Tony Romo choking [D.C. Sports Blog]
*****
Thanks for your continued support of Deadspin. Hickey is here tonight. But first! Here's a song requested by Now Imma Throw My Gyroball.