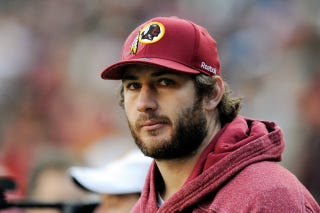 After learning that Fred Davis's season was over with a torn Achilles tendon, the Redskins called up Chris Cooley, fan favorite and Washington's tight end from 2004 to 2011. While negotiating a contract, Cooley had an interesting, hop-filled request that Washington unfortunately didn't fulfill.
From Sarah Kogod of the Washington Post:
Literally, I have text correspondence trying to negotiate a case of beer into my contract. They wouldn't do it. I wanted it in writing so much.
Apparently it wasn't a dealbreaker, since Cooley still signed with Washington, but he should have stood his ground. General manager Bruce Allen is going to blanch at a case of beer thrown in? Cooley had leverage! Hopefully, the next collective bargaining agreement will address this issue.
The story of Chris Cooley's comeback, as told by Cooley [Washington Post]