There's an obscure 1994 Saturday Night Live sketch called "Pepper Boy" that at least one friend of Chris Farley's now uses to explain the late comedian's incredible talent. He didn't have a huge part in that episode—apparently, he was too busy filming Tommy Boy. The laughs in this particular bit were supposed to go to Adam Sandler's hapless, overly sensual pepper-grinding waiter, but then Chris shows up with a ridiculously large beard, croaks out two quick lines with such a huge and perfect delivery that Sandler almost cracks, and steals the whole sketch. That's the kind of performer he was: powerful, committed, and the center of attention even when he wasn't trying to be.

The documentary I Am Chris Farley is directed by Derik Murray (who also did I Am Bruce Lee) and Brent Hodge (he of the My Little Pony fandom doc A Brony Tale). It's showing now in theaters in a few major cities; its TV premiere is tonight, on Spike, at 9 p.m. EST. This thing is full of joy and laughter, even though you know how it ends: with Farley dead at 33 of an accidental drug overdose. Was he a one-note comic who only succeeded by playing the loud-fat-guy card? Would his appeal eventually have fizzled out in the manner of, say, Adam Sandler? His career was too short to say for certain, but IACF is clearly on his side: It paints him as a sweet, careful performer with a natural knack for entertaining people. He was only getting started.
The consensus that has emerged in the 18 years since his death is that the guy clearly didn't love himself as much as everyone else loved him; this movie will further prove both sides of that equation. It will also make you laugh. How could it not? All it takes is a mere screenshot of Farley dressed up like the Zagat lady and you chuckle; a clip of him in full-on Matt Foley garb talking about living in a van down by the river will make you lose it completely. I've seen that sketch a million times; I've seen Tommy Boy a million and one times, and the "fat guy in a little coat" bit gets me every time. They all get me every time.
The documentary opens with Farley's brother, Kevin, doing a standup bit in their hometown of Madison, Wis., and lets Chris's four siblings tell the story of how they all grew up in a loving, hard-working family. You hear how Chris Farley became CHRIS FARLEY, but you get the sense that he was always the same guy. He and his brothers spent their adolescent summers going to camp, which is where Chris first got the opportunity to perform; fast-forwarding a bit, his rugby teammates from his time at Marquette tell tales of a lovable oaf who was always cracking jokes and loved being the life of the party.

G/O Media may get a commission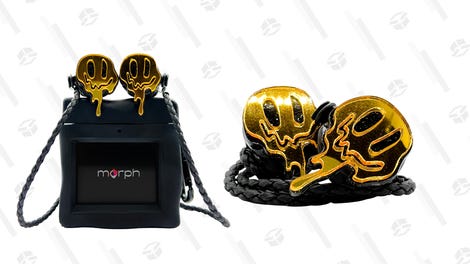 morph audio
Morph Earphones
Farley went on to work for his dad at his asphalt company—sort of like Tommy Boy. But he knew what he really wanted, and soon made his way to Chicago, where he almost instantly fell in with famed sketch-comedy crew Second City, and started creating characters who'd go on to be SNL legends, including Matt Foley himself. (By the way, Foley is named after an old rugby teammate who is now a priest; Chris liked to name his characters after real-life people, but wouldn't tell them until the bit appeared on TV.) Of course, after Second City, things move pretty fast: He hits SNL in 1990, turns into a star, and then succumbs to the pressures and temptations of fame. This part of the story is told via interviews with Sandler, Lorne Michaels, Mike Myers, Tom Arnold (who apparently was Farley's AA sponsor), Dan Aykroyd, and other SNL cronies—who of course all have nothing but great things to say about their troubled friend.
I Am Chris Farley joins the Kurt Cobain feature Montage of Heck and the Amy Winehouse exposé Amy in a recent crop of documentaries about hugely talented performers who died young. But this one is far nicer to its subject. Whereas Heck and Amy are hard to watch—full of uncomfortable footage of their respective stars out of their minds on drugs, they both make clear that their subjects were often terrible people to be around—Murray and Hodge leave those visuals and accusations to your imagination. They can't help but get into his substance-abuse issues to some extent, but he's always portrayed in a noble, innocent light.

The result is worthy of the big screen even if it's getting its network-TV debut almost simultaneously: short and bittersweet, not unlike the life of the comedian in question. There's a late cut to a Weekend Update clip where Chris plays correspondent Bennett Brauer, who talks about his own inadequacies using air quotes and flattens the distinction between the actor and the real person, the joker and the joke. You're led to believe that maybe Farley himself didn't know the difference.
But I Am Chris Farley still insists that he was a great guy with a big heart, a devout Catholic, and a giving person—giving to the point of sacrificing himself to the masses just to entertain them. He went to rehab a whopping 17 times, but he remained a too-good-for-this world innocent. "It stops being so magical when you kill yourself with drugs and alcohol," Bob Odenkirk says toward the end of the film. I Am Chris doesn't gloss over that fact, but it doesn't wallow in it the way 2015's other big fallen-celebrity documentaries have. This one is far more of a celebration: It reels off so many SNL clips that I lost count. I don't have to name them for you, either. You can probably call up a dozen classic Chris Farley lines and scenes right now, from "LAY OFF ME, I'M STARVING" to his Chippendales audition with Patrick Swayze (which some SNL writers hated for its cruelty toward Chris) to his dancing-lunch-lady bit with Sandler.
The focus here stays on that stuff, and leaves out the sordid but possibly more revealing details of his downward spiral. The stories about him hiring escorts and telling people they were his girlfriends. The days-long benders. The anecdotal evidence that he'd burn up all his friends' and castmates' goodwill. The tabloid frenzy that followed after his death. You'll have to dig for yourself to find that stuff. Farley is already a shockingly well-documented guy—he got his own biography back in 2008—and the next film or TV show or oral history to take him on might not paint as rosy a picture. But what I Am Chris Farley really wants you to know is that the tragedy couldn't outweigh the comedy: He was simply a guy who knew how to make people laugh. That's all he wanted to do. And he's still doing it.