It looks like our boy has finally found work. Chris Kluwe punted for the Minnesota Vikings for eight years, but was cut 10 days ago to make room for a younger, cheaper option: rookie punter Jeff Locke out of UCLA. In his time at Minnesota, he carved out a resume as maybe the best punter in franchise history. As the NFL's most outspoken gay activist, though, he's best known for writing this, and there's even speculation that he was cut for being so outspoken. Needless to say, we love Kluwe, and news that he was out of a job saddened us to our core.
But there's a silver lining yet. Last night, pro-gay comrade-in-arms, free agent linebacker Brendon Ayanbadejo, wrote a piece for Fox Sports saying Kluwe signed with Oakland, and it'd be announced today. And today, word leaked that Kluwe penned a one-year deal with the Raiders for the league minimum. Oakland's last punter, Pro Bowler Shane Lechler, signed this offseason with the Houston Texans.
This is great news, and well-timed. For the first time in a long while, we'll have reason to cheer for the Raiders, and just this week, gay marriage was legalized in Minnesota. The bill, which goes into effect in August, makes Minnesota the 12th state to permit gay marriage.
As Ayandbadejo notes, there's another front to fight for gay rights: California.
Kluwe is focused on punting, but he says his eye is also on Proposition 8 in California. Prop 8 was passed by voters in 2008 and governs that the state recognize only marriages between a man and a woman. The law's legality was argued before the US Supreme Court in March, with a ruling expected in June, and Kluwe is optimistic about the likely repeal of the measure. If the measure is not repealed, however, he says it will be an issue of concern that will need to be addressed.
G/O Media may get a commission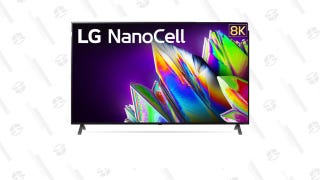 LG 75-Inch 8K TV
Hopefully, he kills shit on the field as he battles for gay rights off of it for years to come. Meanwhile, it's feels like high time to hop on the Raiders bandwagon. There's plenty of room.
Photo Credit: Getty