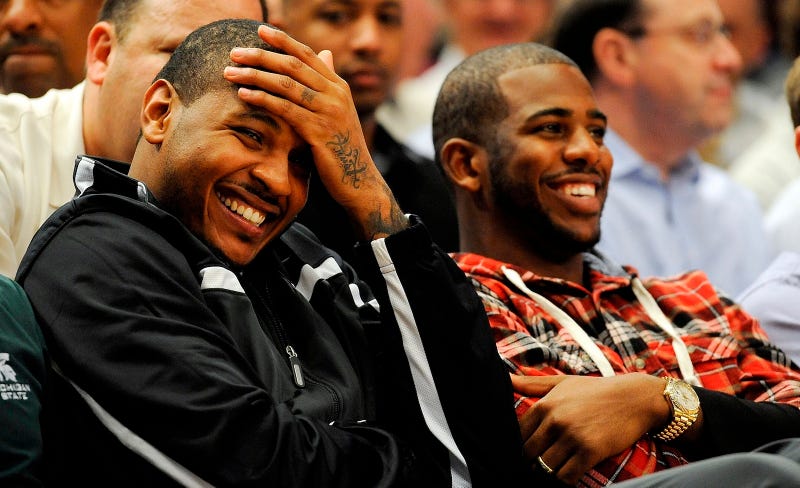 Chris Paul is a bad person for wanting to choose where he lives and works? Is that really the narrative we're going with? OK.
Yahoo is reporting the biggest open secret in basketball over the past six months: that Chris Paul has no interest in staying in New Orleans, and wants to be traded to the Knicks. He'd also like to play with Dwight Howard, hopefully in New York, and maybe also a magical unicorn at shooting guard, which is just as realistic.
The Knicks have nothing. They can't even trade a first round draft pick until 2018. Maybe Iman Shumpert will average 50 points and 20 steals over the first month, but until then, a team like Boston—who might be willing to part with Rajon Rondo—would be a more likely landing spot for Paul before next summer. But here's the thing that's got the Hornets front office furious and hamstringed: Paul going public with his desire to leave now cuts his own trade value. He'll be nothing more than a rental.
What does Chris Paul owe New Orleans? That's a legitimate question, and it seems to be the jumping-off point for the criticism of Paul that's flowed freely since today's news broke. I don't think Paul owes the Hornets anything, nor do the Hornets owe Paul anything beyond his 2011-2012 salary. They've been very good to each other over the years, top-notch performance for generous pay. That's a contract, this is business, and Oscar Robertson ended the NBA's option clause in court 35 years ago.
Is that what this boils down to? Some desire to see that reserve clause, long stricken from the books of every sports league, invoked again? New Orleans has nothing but Chris Paul, and should be allowed to keep him as long as they want? Of course not. That's dumb and no one would ever feel bad for the Lakers or Bulls if they lost a star who wanted to go, or blame Paul if he wanted to go home to North Carolinas. The vitriol at Paul is really vitriol at the NBA's continued economic and competitive imbalances. Nobody wants to see the Knicks sign another star or see the Lakers land Dwight Howard, because don't they have enough?
This is a real problem, and I don't know how to solve it. Certain markets are always going to print their own money, and those same markets tend to be the ones where rich young men would like to live. Set aside any cachet or legacy the Knicks or Lakers or Bulls have to offer. New York, LA, Chicago, Miami et al. are fun places for people who have more money than they know what to do with. More fun than Orlando or New Orleans or Cleveland, for sure. If the NBA moved a team to Las Vegas tomorrow, it would instantly become a desirable destination for players.
This is the blessing and the curse of the free market, which the NBA decidedly is not under most circumstances. But truly free free agency is something the players have battled the league over for decades. Chris Paul is a grown-ass man, who has done his time on a team he no longer wants to play for. He has every right to sign with whichever team he wants. And if he wants that extra contract year and $20+ million from being traded in-season then re-upping with his new team, then he's free to tell the Hornets that he wants to be moved. They don't have to do it—Paul will play out this year in New Orleans if he has to, and he's not the type to half-ass it—but Dell Demps would be a fool not to get something in return.
So: sucks to be the Hornets, sucks to be the Knicks who can't just sign him next summer without giving any pieces up, sucks to be any other team who might've envisioned him running the offense. But it's awesome to be Chris Paul right now, because he's going to ply his chosen trade in his chosen city. Would you want anything less for yourself?