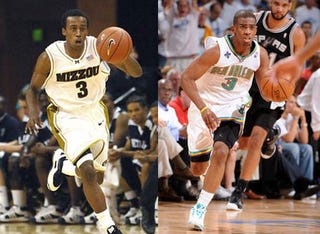 Missouri's Miguel Paul really looks up to his cousin, NBA superduperstar Chris Paul. He has the same number, same nickname, gets advice from him... Now, if only Chris Paul knew who the heck he was.
A story in the Columbia Missourian last fall told the inspiring tale about how freshman Tiger guard Miguel Paul met his hero and distant relative at a high school tournament in North Carolina, where Chris is from. Miguel scored 36 points in the championship game and went back to the victorious locker room to find Chris waiting for him.
They talked for a few minutes, and Chris Paul gave his cousin some advice. He told Miguel Paul to play with his head and just have fun.

Wake Forest, Chris Paul's alma mater was working hard at the time to recruit Miguel Paul, but Chris didn't try to influence Miguel's decision.

"I wanted to create my own footsteps, go my own way," Miguel Paul said.

It was Miguel Paul's play in the tournament that motivated his cousin to organize the surprise meeting.
That is a good story. Too good to check, almost. Until a Missouri student decided to go to New Orleans on assignment for Columbia's NBC-affiliate and ask Paul about his younger cousin.
As he was walking out of the Alario Center after practice, Chris said he had never heard or met Miguel.
Oh. That's unfortunate.
Like Chris, Miguel wears number 3 and teammates call him MP3, instead of CP3. (Maybe he just really likes downloading music?) But either Chris Paul has a lot of cousins and a bad memory or Miguel Paul has an active imagination. Maybe both, but that's why they call it The Show Me State.
* * * * *
That's it for Deadspin today. See you tomorrow when I'm sure more hijinks will ensue. By the way, if any of my cousins call asking for money, I'm not here.