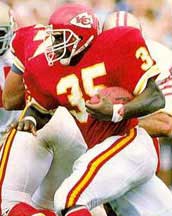 The Fanhouse has our favorite story of the day: Former Chiefs running back/bulldozer Christian Okoye is appearing on a CBS reality show called "Pirate Master." (We didn't know "master" was a rank of pirate, but whatever.) Here's the synopsis:
On "Pirate Master," 16 contestants will live aboard a 179-foot, square-rigged barque. Over the course of 33 days, they'll live as buccaneers, traveling around a Caribbean island in search of a treasure totaling $1 million. Each episode will find the contestants gathering at Pirate's Court, overseen by host Cameron Daddo, where they'll state their case and somebody will be cut adrift.
It is encouraging to know that someone out there remembers Okoye as fondly as we do. It is also encouraging to know that that someone would like to see him dressed up in an eyepatch and saying the word "scurvy." Our fingers are crossed that he has a parrot.
Arrrrrrgghh Ya Wonderin' About Christian Okoye? [The Fanhouse]