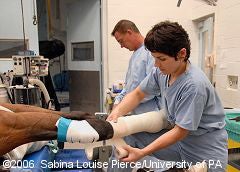 If you check out the Barbaro message board right now, you get the following shocking message:
The Barbaro Message Board will be closed for the holidays and will re-open January 2nd. Thank you all for your wonderful support. Happy Holidays and we'll see you next year!
I find it outrageous that folks won't be able to send their heartfelt holiday greetings Barbaro's way. How will children share with Barbaro what they got for Christmas? I simply cannot believe that it will be a full week before I am able to tell Barbaro how much he means to me. And that I hope he doesn't catch herpes. And that even if he does, I'll love him anyway, although I probably won't kiss him, the way I would have before I found out about the whole equine herpes thing.
Some people, though, are sending their presents to Barbaro the old fashioned way.


Gift baskets have been coming pretty much every day, filled with carrots, apples, peppermints, and horse treats for Barbaro, and for the other patients in the Intensive Care Unit. Barbaro loves peppermints.
I want to make it clear that I think it is very sweet that people care so much about Barbaro and I would in no way mock anyone who feels such passion for a horse.
Barbaro message board [University of Pennsylvania School of Veterinary Medicine]
Merry Christmas, Barbaro [Bloodhorse.com]