So it's come to this: Chuck Liddell, who was punched in the head so many times that he was forced to retire from professional MMA almost a decade ago, will come out of said retirement to fight Tito Ortiz, who's pivoted from fighting other old guys to being a MAGA dude back to fighting other old guys. The two are a combined 91 years old, yet they will fight at some point in 2018 under the banner of Oscar De La Hoya's boxing promotion. Sure!
The best sports movies according to Toheeb Jimoh
Of the two fighters, Ortiz is the only one you could call "active." The UFC legend—who nearly fought UFC bossman Dana White in a real, actual boxing match in 2007—beat Chael Sonnen in January 2017 and has four fights with Bellator since leaving the UFC in 2012. Ortiz has won three of them, but he is also 43 and was washed back before he had his last big fight with Liddell, in 2006. In his day, he was a shit-talking terror in the octagon who blended the various disciplines of mixed martial arts better than most of his peers, but that was before he went 1-7-1 in his last run with the UFC. He's a big name who's more than a decade out from being able to bang with serious contenders. That's good for him, because the man he is going to fight is even more mummified.
Liddell last fought in 2010, though his last win in the octagon came in 2007. He knocked out Ortiz twice, but they last fought 12 years ago, and Liddell completely turned to dust after their last meeting. You can trace the beginning of Liddell's descent from early-days UFC god to brittle old guy with no chin who needed to be kept out of the UFC for the safety of his own brain to his last title defense, which he lost when Rampage Jackson smashed his jaw.
After that, he won one more fight but got knocked out three times, twice falling unconscious to the mat. The UFC cared even less about fighter safety in those days than it does now, yet Dana White continually pleaded with Liddell to retire before his brain turned to mush. "He's a huge superstar, and we could still sell lots of tickets. But I don't care about that. I care about him. I care about his health, and it's over, man. It's over," White said in 2009, before Liddell came back in 2010 to get liquified again.
G/O Media may get a commission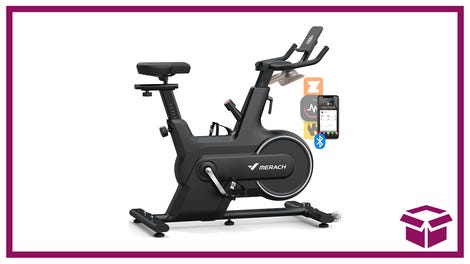 14% off + Coupon
Merach Indoor Cycling Bike
Any hope that the old Chuck, who was liable to punch anyone's head off, could make a return to form in 2018 is wildly optimistic, since we haven't seen that fighter since the last time he fought Ortiz during the Bush administration. Ortiz has shown more as a fighter in recent years, so while predicting the outcome of this matchup would be an exercise in taking a wild promotional spectacle seriously as a sporting event, he'd probably choke Liddell out in the first round. Even under the best of circumstances, this fight will be a sad mess, and perhaps all fans can hope for is neither man losing consciousness. Hopefully no one dies.