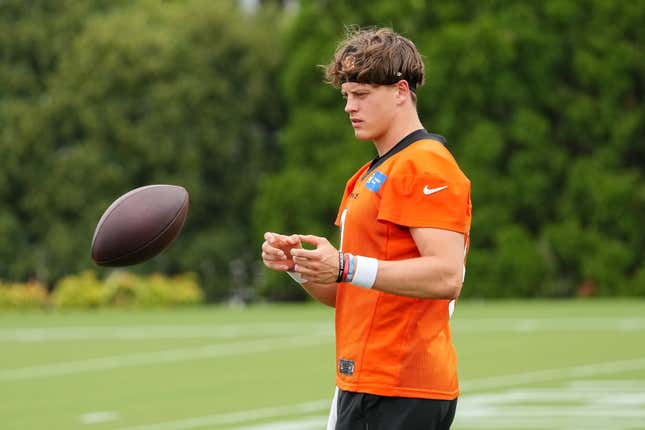 Super Bowl Championship expectations are rare for the Cincinnati Bengals. Before Ja'Marr Chase was drafted they hadn't won a playoff game since Bo Jackson played football. In 2023, the sports books have the Bengals as one of the top-five favorites to win the Super Bowl. However, they are currently dealing with a major setback. Joe Burrow has not participated in on-field activities since the second day of training camp.

Is Domantas Sabonis at fault for the Draymond stomp? | Agree to Disagree
The injury looked terrible at first. He hobbled a few steps away from a play, tumbled to the ground while grabbing the back of his lower right leg, and was carted off of the field. The dreaded non-contact injury. With Trevor Siemian next in line, one of the hardest schedules in the NFL began to appear too daunting of a task for the Bengals.
When will Burrow be back?
Soon, it appeared that the Bengals had avoided disaster. Zac Taylor told the media that Burrow suffered a calf strain that would heal in several weeks. Burrow attended practice for the first time since the injury on Wednesday. Taylor was asked again about Burrow's recovery timeline.
"It will be several weeks from when I said several weeks."
That vague update sounds like Taylor is taking his cue from the NBA when it comes providing information about player injuries. A standard line in the NBA this past regular season with injured players was "we will re-evaluate in a couple of weeks."
After four months of two-week evaluations, the New Orleans Pelicans effectively shut down Zion Willamson. During the playoffs there is no time to wait a couple of weeks, so after Joel Embiid suffer a knee injury in the first round of the playoffs, he was supposed to be ready to play at the start of the second round. The second round arrived 11 days after his injury and then came reports that his knee injury was worse than originally thought. He missed Game 1.
At this point, a win for the Bengals would be that an educated, though non-medically certified, guess from ESPN's Adam Schefter's about Burrow is correct.
"Joe Burrow's agent has already kept Nick Bosa out of the 49ers camp. He didn't even report until he has a new contract." Schefter said on Get Up shortly after Burrow's injury. "So, considering the injury, considering his contractual situation, there's a real chance that we will not see Joe Burrow back on the practice field again until he has a new contract that makes him the highest paid player in NFL history."
If that's all it takes to get this potential MVP on the field, then the Paul Brown needs a reminder that nickels are not in fact manhole covers, and ink Burrow to a five-year deal worth at least $53.5 million per year, $138 million fully guaranteed — $200 million including injury guarantees.
The clock is ticking...
Money cannot be the issue when a Super Bowl Championship is this close. The Bengals will likely not be able to keep their core of talent together past this season due to salary cap concerns. They need their quarterback and team to be in a good place as soon as possible as they get ready to battle Patrick Mahomes, Josh Allen, Lamar Jackson, and some of the strongest rosters in this league.
If money isn't the problem, and Burrow has an NBA injury that somehow evolves from a regular strain, to a severe strain, to maybe even worse, they could find themselves looking on the outside in of a competitive playoff hunt before October. The Bengals first two games are against fellow AFC North opponents — possibly the best division in the NFL. There are 11 teams in the AFC with a decent shot to make the playoffs.
Best case scenario is Taylor is being NBA-level cagey because he can say whatever he wants to the media that he best feels benefits his team, and Burrow will be back at practice before Hard Knocks episode 3.
The No. 1 scenario is easily fixable, while No. 2 could be the first injury of the year to have an effect on the postseason. Like the Philadelphia 76ers and Pelicans, there is a limit to how forthcoming the Bengals have to be with injuries, but being cagey is not good for the business as a whole.