The person with the most necessary job in the world, FIFA's chairman of audit and compliance, has resigned, because FIFA's top officials on Friday passed a measure that allows them to fire auditing, finance, and ethics officers at will.
Domenico Scala, a Swiss businessman, quit once the FIFA Council voted 186-1 to adopt the power to dismiss the watchdogs who keep the governing body for world soccer from devolving into a naked criminal syndicate. Following the vote at FIFA's annual conference in Mexico City, Scala resigned from the Audit & Compliance Committee. It's seen as an affront to new FIFA president Gianni Infantino, who otherwise emerged from the conference with a nigh-dictatorial hold on the organization.
In his resignation statement, Scala said the measure makes it possible "for the Council to impede investigations against single members at any time, by dismissing the responsible Committee members or by keeping them acquiescent through the threat of a dismissal. Thereby, those bodies are factually deprived of their independence and are in danger of becoming auxiliary agents of those whom they should actually supervise."
FIFA, in response, issued a statement saying that it "regrets" that Scala "misinterpreted" the purpose of the measure. Per Keir Radnedge, here's the text of what was passed: "The Council proposes that the Congress authorise the Council to appoint the office holders for the remaining vacant positions within the respective committees of the judicial bodies, the audit and compliance committee and of the governance committee, until the 67th FIFA congress and to dismiss any office holders of these committees until the 67th FIFA Congress which shall come into effect immediately." FIFA did not make clear how, in fact, Scala could read that and conclude his post as independent auditor was any longer worth a bucket of warm piss.

G/O Media may get a commission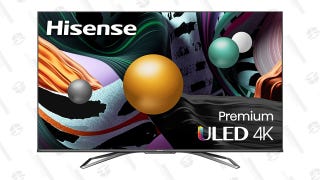 Save $350
Hisense ULED 65" Android 4K HDR Smart TV
By assuming the power to determine in effect who would investigate its financial dealings and to what extent, the Council and Infantino made clear business would continue as usual. Infantino took over this past winter for the terminally corrupt Sepp Blatter, who created the ethics committee as a fig leaf in 2012 only to see it function as actually advertised, and send him packing for many, many reasons. Blatter was banned from the now-slightly-more-beautiful game for eight years. His replacement seems determined not to repeat his mistakes, i.e., facing a meaningful challenge from his own in-house investigators.