My guests this week on the official Ask a Clean Person podcast are the ladies of Done & Done NYC, a professional organizing and home staging company that mother-daughter team Ann Lightfoot and Kate Pawlowski founded four years ago. Their Operations Manager, Abby Lofberg — who has been Kate's best friend since they met in the third grade — also joined us for an extended, 45-minute episode devoted to the challenges of getting your home organized and parting with items you no longer need, and the emotional difficulty associated with estate liquidation after the passing of a loved one. I promise it is not nearly as grim as it sounds!
A lot of the work that Done & Done NYC does involves helping people clear out homes after the death of a family member, which allowed us to talk about the therapeutic value of having someone to talk to while you purge your own or a loved one's belongings, and learning some ways of thinking that can help you with the emotional aspects of change and letting go.
Speaking of ways of thinking! I discovered something interesting when I was pulling reader questions to ask of Ann, Kate, and Abby: Almost all of my organizing queries are from women. I tend not to see a huge difference in the type of questions asked by men versus women, beyond some obvious ones—guys ask about their balls, gals ask about their bras, that kind of stuff—so this was a little surprising! We chatted about a way to frame decluttering and organizing for men, which is to put the focus on efficiency and streamlining, in order to create more time to dedicate to their career or their art or their golf swing.
In order to encourage more men to think about decluttering and creating organizing solutions, Done & Done NYC is extending a 10-percent discount on their services to Deadspin readers! Use the code 'jolie cleanperson' when contacting them, which you can do by phone (917-426-7942), email (info@doneanddonenyc.com), or by using their online form.
And just for funsies, I said a few things about my mother that are sure to end in a phone call that opens with "ANJOLIE ELIZABETH!" But you'll have to listen to find out what they are! That's a thing you can do here, or over at iTunes, where you can also subscribe.
G/O Media may get a commission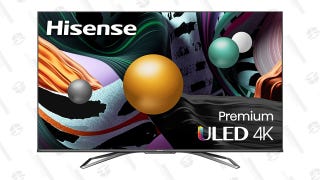 Save $350
Hisense ULED 65" Android 4K HDR Smart TV
Do you have something you'd like to hear discussed on Ask a Clean Person: The Podcast? Email me at jolie@deadspin.com with the subject line CLEANCAST. Do you like what you heard? Please consider leaving a rating in the iTunes store when you head over there to subscribe!
---
Jolie Kerr is Deadspin's resident cleaning expert and the author of the book My Boyfriend Barfed in My Handbag … And Other Things You Can't Ask Martha (Plume). Follow her on Twitter, or contact her via email at jolie@deadspin.com.
Illustration by Sam Woolley.
Adequate Man is Deadspin's new self-improvement blog, dedicated to making you just good enough at everything. Suggestions for future topics are welcome below.