One of the dependable comforts of this turbulent world is the reassuring fact that the Cleveland Browns are interminably, totally awful. This can be something that Browns fan continually mourn, or it can be something that they embrace and commemorate with a parade.
Season-ticket holder Chris McNeil has opted for the latter, saying that he has filed paperwork with the city of Cleveland and paid a $25 fee to request the right to host a downtown parade if the Browns pull off the historically pathetic feat of an 0-16 season.
The only team in modern NFL history to go 0-16 are the 2008 Detroit Lions. Currently 0-10 for the first time in franchise history, the Browns have used six quarterbacks this year and have no reason to expect things to turn around at any point in the foreseeable future. Another losing year means that the Browns have only put together two winning records since 2000, and they've only made the playoffs once in that time.
"I can't spend another season as a Browns fan just wallowing in it," McNeil said. "I wanted to take things in a different direction."
Though the city requires that the permit application for a public special event be submitted only 10 days in advance, McNeil was excited enough by the idea (and confident enough that Cleveland will continue losing) that he went ahead and applied for the permit this week, with a tentative scheduled date of the first Sunday after football season ends. More than 2,700 people have RSVP'd yes to a Facebook event for the parade, and a proposed route loops around the stadium to form a "0."
G/O Media may get a commission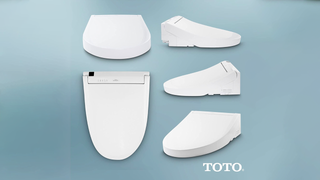 44% off
Toto Washlet Electronic Bidet Toilet Seat
Rather than being a group mourning exercise, McNeil envisions the parade as a joyous event where Cleveland fans can lean in to the atrocity of the Browns and accept that this team is not getting better at any time soon: "It's not supposed to be going out with brown bags on our heads. It's about enjoying sucking, just embracing it."
Excited as he is about the possibility of the parade, McNeil also has the characteristically low expectations of a Browns fan and believes they will ruin his dreams simply because they can.
"I fully expect the Browns to go out there and win one of these games," he said. "Just to turn the tables on us."