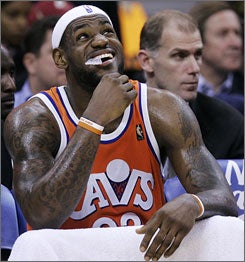 • Curse Of The Yankees Lid. LeBron James supposed it was good, harmless fun to sport a Yankees' cap during the American League playoffs, but now that bad karma is coming back to bite him on the ass. If, you know, karma has teeth. James suffered through the only non-scoring first half of his NBA career, and went on to tally 10 points in the Cavaliers' 92-74 loss to the Mavericks. Of course, perhaps it's unfait to blame it all on Lebron; maybe a little defense would have helped? Jason Terry made six three-pointers and scored 24 points for the Mavericks, who can now get the image of a cackling Don Nelson out of their heads. But no one can say that LeBron didn't see this coming. From Joe Gabriele's Cavs Blog on Monday: "The season starts next Wednesday, so we need to either get it together or keep getting blown out some more," said LeBron James after Friday night's thumping in Boston. "That's as simple as it is, either get it together or get blown out." Meanwhile, Charles Barkley has already predicted on TBS that the Cavs will not make the playoffs, which seems a bit harsh.
• Ah New Jersey Nets, You Sly Boots. There's nothing like a pink slip to motivate your employees. Antoine Wright was told by the Nets that they won't be picking up the option on his contract next year, so Wright came through with a big fourth quarter and overtime to lead New Jersey over Chicago 112-103 on Wednesday. Wright scored 14 of his career-high 21 points in the fourth quarter and OT.
• CA On KD. Kevin Durant had a rocky debut — hey, they're playing defense! They can do that? — as the Nuggets beat the SuperSonics 120-103 in the season opener for both teams. Durant scored 18 points in just over 31 minutes, shooting 7-of-22. Carmelo Anthony, who guarded Durant, had 32 points, with three 3-pointers. "He's going to be all right," said Anthony of Durant. "Hopefully no one puts too much pressure on him."
• Insert Lead Paint Joke Here. Yi Jianlian had nine points in 25 minutes and was 4-for-5 from the floor as Milwaukee lost to Orlando 102-83. Rashard Lewis scored 26 points on 9-of-13 shooting for the Magic.