Dan Gilbert and the Cavaliers have made a massive fucking mess of the 2017 NBA offseason. It's hard to believe a team that can basically sleepwalk backwards through the regular season and wake up in the Finals would find itself seemingly on the brink of total meltdown, but here we are.
First the Cavs lost David Griffin, their very good general manager, in the very middle of trade negotiations aimed at, among other things, bringing in Paul George; they spent weeks wooing and then failed to land Chauncey Billups as Griffin's replacement; they have mostly failed to upgrade a roster that was very recently not very close to being good enough to seriously challenge the Golden State Warriors in the NBA Finals; the organization's relationship with LeBron James seems to be crumbling; and Kyrie Irving has now asked Dan Gilbert to trade him someplace else.
That's the backdrop of today's report from ESPN's Chris Haynes, which says that LeBron will not, under any circumstances, allow himself to be traded this upcoming season. Given the deteriorating circumstances around him, you might expect LeBron to relax this position and allow the Cavs to shop him around to other contenders, secure that his no-trade clause will keep him in absolute control over his destination. Not so:
No matter the reconstruction of the Cleveland Cavaliers' roster, no matter the potential for heightened inner turmoil, no matter the win-loss record, and with or without Kyrie Irving, LeBron James will not waive his no-trade clause for any teams at any point during the 2017-18 season, league sources tell ESPN.
Is this good news, exactly? ESPN's big Sunday morning blow-by-blow of Cleveland's internal dysfunction included a glimpse at Cleveland's immediate response to Kyrie's trade request, painting a picture of vague can-do optimism:
After the meeting, Gilbert flew to Nevada to join the team and for the standard summer ownership meetings. He called a meeting in his hotel suite with his front office, including Altman, and informed them of Irving's request, sources said.

It was a long meeting in which the group began the difficult discussions about how to move forward. They decided they would take their time, study the process and look for a way to maximize the situation. Gilbert gave his young group a jolt of confidence and they left believing they could still emerge from this situation OK. Irving has immense trade value, and they would have the chance to retrofit the roster in a way that might help them against the Warriors.
G/O Media may get a commission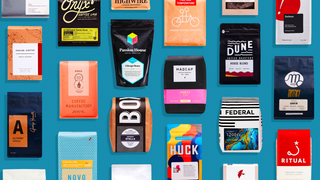 Get $25 free
Trade Coffee - National Coffee Day
So there's a way of looking at this as a directive from LeBron, who basically runs Cleveland's basketball operation, to focus on the here-and-now, on building as strong a team as possible for the upcoming season. With the idea of trading LeBron—however remote—off the table altogether, the Cavs front office should have no business contemplating how they might turn their most valuable player assets—including the single most valuable player asset in all of basketball—into a turbo-charged rebuilding project, a la Danny Ainge's post-Big Three moves in Boston.
And, look: however good the Celtics and Wizards and [gulp] Sixers (?) might be feeling about the bleached and scoured state of the middle and bottom of the East, everyone associated with the Cavs has got to know they are still the toast of the conference as long as they've still got LeBron. They'd have to be crazy to trade LeBron! So this report is really a formality, right?
I don't know! Whoever communicated LeBron's intentions to ESPN has to be in LeBron's camp, and it has surely also been members of LeBron's camp—possibly 6-foot-8 superhuman members of LeBron's camp—who've kept the media abreast of LeBron's frustration at the handling of Griffin's exit, and the organization's failure to upgrade the roster. So, these three things are all true: LeBron is deeply disappointed in his organization's performance this offseason; LeBron has a player option in 2018 that he is almost certain to decline; and LeBron "will fulfill his contractual obligations, whatever unexpected circumstances may arise," per today's report.
That is language that makes it clear LeBron is unwilling to be traded, but it is not language that makes you feel real great about LeBron's enthusiasm for the Cavs organization! That is language that makes you think it might otherwise not be such a terrible idea for the Cavs to start thinking about their next rebuild, the centerpiece of which was supposed to be, you know, Kyrie Irving. A leak that holds fast on LeBron's no-trade position without affirming a long-term commitment to Cleveland, you have to assume, is calculated not just to set the tenor of the remainder of Cleveland's offseason, but to imbue it with a new condition and mandate: don't even think about flipping Kyrie for future assets, or I am gone.
In the calculus of NBA roster management, having a star player who does not intend to stick with your organization long term means working quickly to move that star for some sort of equitable return. No-trade clauses are so rare and so powerful—only LeBron, Dirk Nowitzki, and [heh] Carmelo Anthony, among all NBA players, have active no-trade clauses in their current contracts—precisely because they render that calculus obsolete. You cannot rebuild while retaining a genuine star player, because their very goodness will sabotage the NBA's reverse incentive draft lottery structure, but the no-trade clause means you cannot trade your very best player for the assets that would otherwise make utilization of the NBA's reverse incentive draft lottery structure unnecessary. If you give a star player a no-trade clause, you are committing to trying to be good in the present for as long as that player is under contract.
If LeBron were committed to the Cavs long-term, contractually or otherwise, the Cavs might reasonably consider swapping Kyrie for, say, a package centered around fresh young players and some future picks, and count on LeBron to keep the team relevant until those shiny new things mature into valuable rotation pieces, after which they would aid another championship push and, at some point down the line, form the core of the post-LeBron era. The NBA's push for parity has the unfortunate consequence that moving players around for equal value in capable NBA veterans is extremely tricky—just ask the Bulls and Pacers—which is part of why future assets are almost always included as a sweetener. The Cavs are going to have a hell of a time converting Kyrie Irving into veteran players who offer the same long-term upside and stability.

With LeBron committed only to "leading the team with the personnel the organization imports to training camp in September," and the team unable to trade him under any circumstances, it will be more fascinating than ever to see how the Kyrie Irving trade market takes shape. Where will the Cavs find win-now pieces to supplement LeBron during what could be his last season in Cleveland? Bear in mind, it was a series of too-thirsty win-now moves during LeBron's last run in Cleveland that left the organization in total ruin after The Decision. It could happen again!