From now until the end of the season, we'll be posting a number of clips from the previous weekend's English Premier League games. If there's a goal, save, dive, lip-read profanity, or hocked sputum we should know about, drop us a line at tips@deadspin.com. (You might also enjoy our better-late-than-never EPL guide)
Clint Dempsey will be taking this ball back to Nacogdoches (Fulham 5, Newcastle United 2)
There was a telling moment shortly after Clint Dempsey's third goal at Craven Cottage on Saturday. Dempsey, the first American to score a hat trick in the EPL, sprinted toward the stands to celebrate, where he was soon joined by his teammates. Andy Johnson was the last to arrive. He'd paused to retrieve the hat-trick ball. He wanted Dempsey to have it. The natives were bearing gifts.
Dempsey's earned that kind of respect since arriving at Fulham five seasons ago. What he's done in that time is nothing short of remarkable. He's led his team in scoring four of the past five seasons—seasons that have seen Fulham go from barely escaping relegation (thanks to a Dempsey goal), to becoming a habitual name in the middle of the Premiership table (despite a small budget), to playing in pan-European competitions (UEFA's Europa League).
All of which makes the case for him as the best Yank to ever play abroad (not counting traitorous scum like the New Jersey-born Guiseppe Rossi, who now plays for Villareal CF and the Italian national team). It's tough to compare field players and goalkeepers, the latter of which the U.S. has produced many of at the top level, so Brad Friedel might have a claim to the "greatest American" title. Friedel has nearly 300 more Premiership appearances than Dempsey and, arguably, done more for the national team. But a quick tour of Dempsey's EPL accomplishments leaves little doubt:
• First American to score a hat-trick in the EPL
• First American to score 10 goals in a season
• First American score 50 goals in England
• First American to play in a European final
• Holds the record for most goals by an American in one season in the EPL (12)
• Holds the record for most goals by an American in his career in the EPL (42)
• Holds the Fulham record for career goals, regardless of nationality (42)
G/O Media may get a commission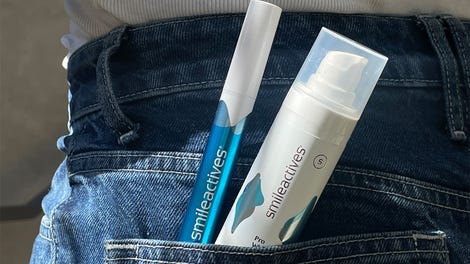 58% off
Whitening Powerhouse Pen & Gel Duo
Taste it, Landon Donovan, Brian McBride, Claudio Reyna, Kasey Keller, Tim Howard, and Eric Wynalda. And you taste it too, Friedel. In case the jury's still out, Dempsey is from Texas and has held on to his twang in England. Other Americans tend to, well, assimilate a little more. Remember Madonna's accent a couple years into her Guy Ritchie phase? Brad Friedel is the new Madonna. Dempsey is our cowboy in the Old World, blowing shit up.
Mario Balotelli connects on a face stomp and a game-winning penalty
(Manchester City 3, Tottenham Hotspur 2)
Manchester City striker Mario Balotelli is no stranger to strangeness, which is why we like him. But we don't like this, Mario. Tsk tsk. The first half of the match between top-of-the table City and third-place Tottenham was a dreary, goalless affair. Not so much the second half. In the span of 10 minutes, City went up 2-0, only for Spurs to even the score with two goals of their own, including a gorgeous, curling one-timer from Gareth Bale that has to be one of the strikes of the season.
Then Mario Balotelli came on. And Mario Balotelli started to do the shit that Mario Balotelli does. First, he got a yellow card for a clumsy challenge on Spurs' midfielder Scott Parker. Five minutes later, Parker was whistled for a foul on Balotelli. As the Man City striker struggled to regain his balance, he took a step, looked down, then took another step—this time with his studs to the side of Parker's face. The stomp should have earned Balotelli a red card. Instead, he stayed on. Three minutes into stoppage time, he won a penalty after being fouled in the box by Spurs' captain Ledley King. Balotelli stepped up to the spot, wrong-footed keeper Brad Friedel, and smashed the winning goal into the back of the net. Just doing what he does, see.
Unfortunately for Balotelli, the FA (the EPL's governing body) also does shit, such as review game footage. Now Balotelli faces a four-match ban for "violent conduct," which should give him plenty of time to poop in random elementary schools, break into women's prisons, and set his own house ablaze with illegal fireworks.
Robin van Persie loves his grandpa, and Fox is now broadcasting the EPL live (Manchester United 2, Arsenal 1)
This was a weekend of firsts not just for Americans in the EPL (see: Dempsey, Clint) but for the EPL in America. Fox, home of everyone's favorite robot-based sports coverage, broadcast Man U-Arsenal Sunday morning. It was the first live Premiership match on network TV.
Joining commentators Warren Barton and Eric Wynalda for the pregame was, obviously, the British zombie version of Larry King: Piers Morgan, who is an Arsenal supporter. That was apparently reason enough to allow Morgan's jowls five minutes to flap about Arsene Wenger and Arsenal, before picking them to win. Hey, at least it wasn't Michael Strahan explaining the difference between soccer and football. Making progress, Fox.
Morgan did get one thing right. He said that if Dutch striker Robin van Persie didn't score, Arsenal wouldn't score. It's troubling for Arsenal that while van Persie is leading the EPL with 19 goals, they are only +6 in goal differential. Combined, the rest of the team has only one more goal than RvP. True to form, van Persie did score, as seen above, then paid tribute to his grandpa, "Opa Win," on the old man's 91st birthday, at which point Morgan's jowls must have been flapping down by his shirt collar. But that would be all the scoring Arsenal would do and they would lose.
More notable than the result is that all this happened live on American television. On America's American football network, no less. What this signals for the future of the EPL in the USA—provided Piers Morgan can be subbed out for jowls that flap more knowledgeably—is that: 1.) The big networks are wising up to the notion that more Americans want more EPL and soccer in general. (America is, after all, nothing but a growth market for the sport, especially in the eyes of merchandise-hawking clubs.) 2.) Fox is going about this all the wrong way, although we applaud the effort. They're trying to market soccer by anchoring it to football. Look no further than the promos during the Giants-49ers game for the live broadcast of Chelsea-Man U on Super Bowl Sunday—Fox's next Trojan horse experiment with the EPL.
Screw that, Fox. We're a different demo, and your Bob Seger Chevy ads don't work on us. In fact, we've spent years making ourselves impervious to them. We want our Yankee sports to look more like soccer, not vice versa. If you try to make your robots play soccer, we might actually grow upset. But we'll never complain about live EPL broadcasts on a major American network. Progress is progress.