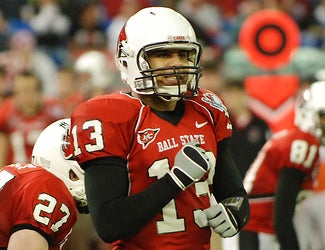 COLLEGE FOOTBALL: Ball State solved a lot of potential BCS bushwhacking when they shit the bed last night against Buffalo, 42-24. Quarterback Nate Davis, whose was climbing on NFL draft boards faster than Tom Cruise onto Katie Holmes (because he's short, see?), led the collapse with four fumbles and an interception. So now Ball State loses out on a MAC title and any chance at a BCS bowl. That sucks...Houston Nutt at Ole Miss and Mike Gundy at Oklahoma state both signed lucrative extensions yesterday, with each coach earning annual compensation in the 2-million-dollar range. That does not suck.
• NFL: NYC Police are intimating that the NFL actually called the department to find out what they actually knew about the Plaxico Burress shooting before releasing any information of their own. Is it just me or is the NFL trying to take over the world one municipality at a time?...T.J. Houshmanzadeh suspects that either he or Chad Johnson will be leaving the Bengals at the end of 2008, and he doesn't think it will be Chad Johnson. Which officially makes Housh a better general manager than Mike Brown.
• NBA: Lakers 106, Wizards 104. Caron Butler needed a 3 at the end of the game to beat LA in regulation and missed. He finished with 29 points and 9 boards. Kobe was good for 23...Dwight Howard scored 21 to lead Orlando past Oklahoma City, 98-89...George Karl is already lobbying for Chauncey Billups to win the MVP...Former NBA veteran Corie Blount was busted and charged with possession of 29 pounds of pot (estimated street value of $55k).
• MLB: A-Rod says he intends to play for the Dominican Republic in the 2009 World Baseball Classic. He played for the US in 2006.