Diarrhea man Colin Cowherd, prompted by Rob Gronkowski saying he would take a concussion over a shredded knee, talked about the two types of injuries on his show today. Cowherd claimed he would prefer "about two to three" severe concussions over something happening to his knee.

Jokic? Embiid? The NBA MVP is obvious... right? | Keep it a Buck(et)
Other things Colin Cowherd said:
"The fear is exaggerated. The suggestion that concussions do this, this, this, this, because Dave Duerson committed suicide... guys on oil derricks commit suicide."
"The brain is the most complex muscle in the body."
"The best sports broadcasters in the country? Have you ever thought about this? The best football broadcasters? All multiple concussions."
G/O Media may get a commission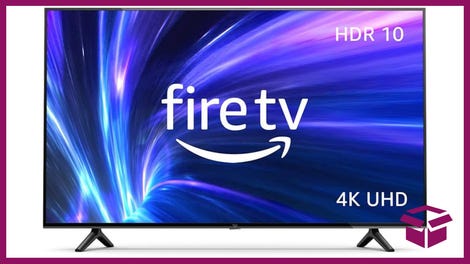 42% Off
Amazon Fire TV 50" 4K Smart TV
"Knee injury—severe—or concussion? I'd take the concussion. Absolutely, no-brainer."
Here's the thing. One concussion, delivered to a dumb old man sitting in a radio booth, actually might be preferable to a blown-out knee. Maybe a few would. But head injuries in contact sports aren't a single inflection point, and the fact that each sub-concussive impact is a relatively minor incident—and that players routinely face more serious threats to their livelihoods—is precisely why it's hard to reform the way that these injuries are handled. Concussions are sometimes so severe that one is enough to end a player's career in the moment; often, the severity of that single concussion is due to the deteriorative nature of the injury—the brain stem twists hard enough to create tears, which never recover and render it unstable forever—meaning that, in a real way, you don't know how many concussions is one too many until you've crossed the threshold. (And that's just for constant, top-level symptoms, not everything we're learning about the onset of CTE.)
That's at the far end of circumstance and genetics, though, and when people talk about "concussions" in the NFL, or any other contact sport, they're talking about the baseline risk of long-term exposure to a bunch of injuries so minor that you'd prefer to suffer their effects over something more frightful, like six months or rehab, or losing your paycheck, or scholarship. The question shouldn't be a dorm-room "Would you rather?" It should discern who out there is too rock-stupid to tell the difference.
[ESPNU]