The College Basketball Closer is written by the gang at Storming the Floor.
If you've watched much college basketball this season, you may have noticed that some... creative sartorial choices are being made by collegiate coaches. We know about Sidney Lowe's red blazer, which seems to have been superseded by Bruce Pearl's orange one. We've seen Rick Pitino wear a white "76 Trombones" suit for one half, only to ditch it and return in the regular dark and sexy look. And let us not forget Bob Huggins, living up to his "Huggy Bear" nickname, by sporting the gold tones all the way down to his loafers.
In all honestly, this phenomenon is one of the things I really dig about college hoops. I'll be keeping an eye on the conference tournaments, where some of the really excellent clothes often appear. We'll have to do without Dick Davey's sweaters from now on, but I've got ten bucks that says some enterprising coach in the MEAC is right now plotting an eye-catching rig just in case his squad makes the big dance.
One note to that coach, however. Make sure your look has style. Don't go out like Wofford coach Mike Young, who dressed in an all-tan ensemble for his fifteen minutes of fame garnered by upsetting Purdue. The Bill Belichick look only flies if you're a genius, coach.
Michael Beasley Can't Find Good Help These Days. Texas 74-Kansas State 65. Talk about streaky (and no, that's not a towel-peeing joke, but it could be). Bill Walker went from scoring 31 with 11 rebounds on Saturday, to 1 and 6 on Monday, on 0-14 shooting. Consistency might be the hobgoblin of little minds, but it also helps you win big basketball games. Conversely, Conor Atchley scored 14 points in as many minutes to help the Longhorns solidify their grip on the Big 12 and a possible #1 seed in the NCAA Tournament. Beasley himself had another double-double of the 30/15 variety.
Some People Call Him Mo-reece! Marquette 85-Villanova 75. Marquette got double figure scoring out of their usual suspects, including Dominic James' 25 points and 6 steals. But sophomore guard Maurice "Space Cowboy" Acker had a season-high 12 off the bench as well - his first double-figure scoring night since he managed 10 against Sacramento State on December 15. Nova's at-large hopes are now officially circling the drain.
G/O Media may get a commission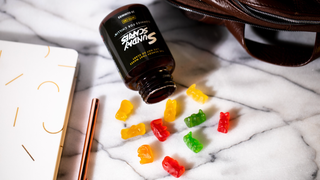 10mg CBD Gummies (22-Count)
Bet He's Never Heard a Tron Joke Before... St. Mary's 61-San Diego 54. This was the last home game for the SMC seniors, and it seemed as if Tron Smith was trapped inside a video game in a glowing blue suit. But he definitely had the cheat codes, as he scored 15 off the bench (off the bench, on senior night?) to help the Gaels stay strong in anticipation of their winner-take-top-seed rematch with Gonzaga set for this weekend.
Tonight's Big Game
Tennessee (25-2) at Vanderbilt (23-4). Man, things sure are hoppin' in Tennessee. The Vols take their triumphant No. 1 ranking from Memphis to Nashville tonight, where they'll take on the up-and-down Commodores. History suggests that this will be a close game, and that the Volunteers might have a tough time of things. They've lost three out of the four times they played in Memorial Gym.
Eric Angevine writes about college basketball at Storming the Floor and CAAZone. He can be reached at stormingthefloor@gmail.com, as can the anonymous eccentric billionaire who runs STF.