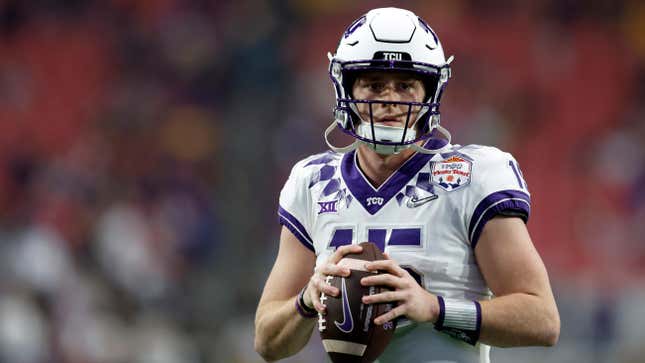 When college football opponents have had the Georgia Bulldogs' full attention this year, it hasn't gone great. From the opener against Oregon to the SEC title game against LSU and the Tennessee game in between, every time we think there's a hint of vulnerability, the Dawgs come out and trample squads to the point of disfigurement.

Which NFL rookie wide receiver should you draft? | Fantasy Football
You could ask, "Well what happened against Ohio State?" And I'd tell you that Georgia didn't really take them seriously. How could they? Kirby Smart's team destroyed Michigan last CFP, and U-M has dominated Ohio for the past two years, so the transitive property argument — and the spread — allowed Georgia to relax.
That's why the Dawgs' focus is what I've been trying to gauge all this week. They're favored by nearly two touchdowns, and the obligatory "How Stetson Bennett went from walk-on to legend" pieces have been written for the umpteenth time. They're an SEC team, too, so there's no shortage of smoke billowing up their asses.
Yet, they spent most of New Year's Eve playing catchup against C.J. Stroud and Co., and led for less than two minutes total in the entire game. But, yeah, let's crown them. Which I want to do, because it's so easy. Georgia hasn't played back-to-back lousy games in the past two seasons, and accurately predicting outcomes is the currency that buys the trust of readers.
So who's going to win?
That brings me to my next thought, and that's fuck it. Fuck it. The Horned Frogs have needed 3 million things to go right this year to get where they are, and very few of those breaks were handed to them. Granted, Jim Harbaugh spent the first half looking incredulously at the scoreboard while the Wolverines failed to execute his shitty play calls, and the Horned Frogs still had to win that semifinal multiple times in the second half.
Down to the backup running back who predictably fumbles? No problem. Crucial late-game stops after letting Michigan back in it? Here are three of them, and a punt return to the 16 for an insurance field goal.
So, yeah, give me the small, resilient, private Christian school in this David versus Goliath matchup, and hopefully a heaping pile of miracles to go along with it, because blind faith and an assist from the big man is what it'll take for TCU to hoist the trophy.
Keys to a TCU upset
Max Duggan, Sonny Dykes, Quentin Johnston, and that Hypnotoad passing game have to at least be confident they can find holes in the Georgia secondary. Two separate Buckeyes broke the 100-yard mark, and I'm acutely aware of how similar I sound to a TCU apologist.
Let me have this, though. Positive thinking is the only thing I have to lean on. Well, that, and the fact that UGA has given up a total of 850 yards in the air and seven passing scores in the past two games.
With Frog leading rusher Kendre Miller questionable after suffering a knee injury Saturday, it'll be on Duggan and Emari Demercado to run the ball, or at the very least keep Georgia honest. The Dawgs haven't allowed a 100-yard game to any running or quarterback all year, and have only given up more than 100 yards on the ground four different times this season.
The last thing TCU can afford to do is get behind early. Don't let Bennett get comfortable, and hopefully, that'll keep Brock Bowers and those tight ends from gashing the Frogs with play-action. I've seen a lot of comparisons between Smart to Nick Saban, and I will at least admit this: When each coach's respective team senses a weakness, you've already lost.
College football fans have spent the majority of this season waiting for normalcy to return to a sport bereft of parity. Tennessee lost to Georgia and then South Carolina, and people exhaled. Then Caleb Williams got hurt, USC fell to Utah again, the Trojans dropped out of the playoff, a familiar Big Ten team seemed destined to make the title game against an SEC foe, and all was at least predictable in the universe.
All the while, the most likely candidate to succumb to reality kept winning, and, well, we're still waiting for our beliefs to be validated. That'll most likely happen Monday, but if there was ever a season for the ceiling to be the floor, it's 2022.
Let's see if TCU can shock the world one more time, and put a purple and silver bow on a year that's been defined by surprises. A late field gives TCU the edge, 41-38.