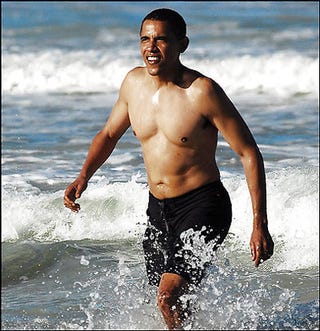 Proving that no angle can be left unexamined when it comes to politics, Thursday night football games are now the Democrat's enemy at their National Convention. Because Obama's convention speech is the same night as the opening of college football season. Uh-oh, a Democratic scheduler was just decapitated. Yep, as Obama strides to the podium to ignite the country with his impressive support of change and the future four football games across the country will be taking place. In a bravura piece of college football/political handicapping, Steve Kornacki over at the New York Observer's "The Politicker" has offered his take on the significance of these four games.
Thursday's slate: NC State at South Carolina, Vanderbilt at Miami (Ohio), Wake Forest at Baylor, and Oregon State at Stanford.
Toss the latter game on the scrap heap. Not just because it's a Pac-10 game between two of the worst teams in the Pac-10 but because there's no doubt that California and Oregon are Obama country. But the other three? Well, if Obama is truly going after North Carolina, it probably sucks that two North Carolina teams are playing that night. Although, let's be honest, anyone who is dumb enough to make a decision based on a single political speech is also dumb enough to be swayed by a single political ad in the weeks leading up to the election. Let's just hope for Obama's sake that those ads air during football games. Or that he begins his speech with a recitation of up to the minute score updates. Who knows maybe he could borrow Stu Scott to handle that. Commenter opening lines for Stu Scott welcome. I'm sure the campaign will take note.
How much does it suck that we live in a country where some people could make a different decision on whom to support for the Presidency based upon a conflict with college football games? A ton. Somewhere Nero is warming up the fiddle.
How College Football Could Be the Death of Obama's Campaign [The New York Observer]