Our weekly college football shame index.
The Weekend in Shame
Purdue 56, Indiana 35: If college football has an immortal who aches for the sweet release of death, it is Robert Marve. The quarterback has wandered the wastelands of the sport—because that's what Miami and Purdue are, if we're being honest—for what feels like decades now. Injured in an automobile accident in 2007. Suspended after punching a car mirror and running from the cops in 2008. An ACL tear in 2009. Another ACL tear in 2010. Implicated in the Nevin Shapiro scandal in 2011. What was it that Robert Marve needed to find to be freed from his student-athlete prison?
The answer: a 300-yard, four-touchdown passing game, both of which feats Marve achieved for the first time in his career against Indiana. Bless you, Hoosiers. Thanks to your defensive incompetence, the sands of time will finally run out on Marve at the most fitting of burial grounds: the Little Caesar's Pizza Bowl in Detroit.
Of course, there were other beneficiaries of Indiana's largesse. Purdue's offense entered this game averaging 19 points a game in conference play. The Boilermakers proceeded to score 21 points. In the third quarter. And then again in the fourth quarter, on the way to only their third 50-plus-point effort in a Big Ten game since 2000. The defensive unit in all three of those games? Hoosiers, one and all. A difficult blow for an Indiana team that came just two wins short of appearing in the conference championship game, and yes, that Maryland/Rutgers thing does make a lot more sense now.
TCU 20, Texas 13: The good news is Texas is not the only team to allow the Horned Frogs to run for 200 yards or more this season. The bad news is the other team that did so is Baylor. Of course, Baylor has managed to hold at least one Big 12 opponent under 100 yards on the ground this year, something the Longhorns cannot claim. (Correction: They can claim it, and probably do on Longhorn Network, but it isn't true.) This is not to say that the Texas offense was particularly helpful, as that unit set the tone early when its first three drives ended inside the TCU 35-yard line and resulted in one field goal and two interceptions.
G/O Media may get a commission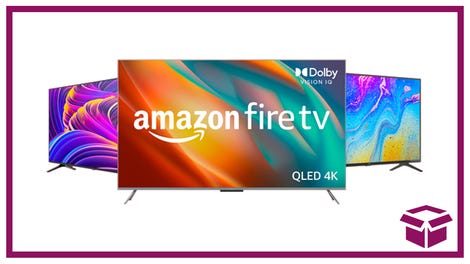 Ooh. stunning.
New Amazon Fire TVs
Here is some fun symmetry: 13 is not just the number of points Texas put up in this game; it's also the number of times a ranked Longhorns team has lost to an unranked opponent under Mack Brown. UT is now in danger of finishing unranked in the final AP poll for the third straight year, something that didn't happen once in Brown's first 12 seasons in Austin. Mack Brown, naturally, is greatly perturbed by that fact, and by perturbed I mean unbelievably wealthy, because unbelievably wealthy is Mack Brown's only emotion.
Washington State 31, Washington 28: Not a misprinted score! Also not a misprint: Washington's 18 penalties, the second most any team has accumulated in a game this season. Five of those infractions came in the fourth quarter, the same 15-minute period in which the Cougars put up 158 of their 369 offensive yards. There are a lot of ways to close out a game, but "fumble, three-and-out, missed field goal" is not one of them, Washington.
Steve Sarkisian's first Apple Cup defeat can be explained in part by incompetence on third down, where the Huskies went 5-for-15. That's been a problem for Washington all year; they rank 102nd in the country in third-down conversions. But Washington State has been even worse, picking up only five first downs total in the three games prior to this. Against Washington, the Cougars went 8-for-15, their first game over 50 percent on the year.
So ends a baffling and frustrating season for Keith Price, the Huskies quarterback who last year threw for 250 yards or more in six games and for three or more touchdowns in eight games but managed each feat in only two games this season. Let's hope Keith gets it together next season. Otherwise, the Jacksonville Jaguars might not trade up two rounds to take him entirely too early.
Elsewhere in Shame
Florida became the first team in 33 games to eclipse five yards per carry against Florida State. It's as if playing an assembly of FBS teams that finished a collective 50-55 didn't prepare the Seminoles for something resembling actual competition!
A blowout against Texas A&M sealed Missouri's first losing season since 2004. The only stop the Tigers defense managed in the first half was an Aggie kneel-down with 16 seconds left in the second quarter.
Sure, Illinois got pummeled by Northwestern to end the season winless in the Big Ten. But the rules screwed the Illini in coach Tim Beckman's first season, and if we'd made only one change, the season would have been far, far different. Under my "first team to score in the game wins" rule, Illinois is 5-3 in the conference and probably Rose Bowl bound!
The Week Ahead in Shame
Kansas gets to travel to Morgantown, where I'm sure a frustrated Dana Holgorsen won't try to put up 150 out of drunken spite. He's an adult, after all.
Pitt-South Florida is not just a matchup; it's the name of a torture technique devised by the first conquistadors to punish soldiers who disobeyed orders.
Georgia Tech actually gets to play for an Orange Bowl berth, so maybe Maryland is stupid for leaving the ACC. Who needs meritocracy when you can just get good shit for no reason?
Celebrity Hot Tub is a college football fan who lost the ability to truly love thanks to three years of Florida head coach Ron Zook. He writes for Every Day Should Be Saturday. Follow him on Twitter @celebrityhottub.