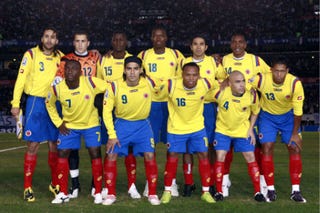 Probably not the headline Danny Jordaan, head of South Africa's World Cup bid, wants to be reading over his Corn Flakes just two weeks before the tournament starts.


Local press are reporting the Colombian national football team, in town to play out their 2-1 friendly defeat to South Africa on Thursday, had £1,900 worth of cash stolen from their suitcases — a DAY after turning up to the Hyde Park Southern Sun hotel, in northern Johannesburg.
The five-star resort is set to be home to the Slovenian World Cup squad, who are arriving, bum bags padlocked shut, on June 8.
Two female employees have already been arrested and charged, after a pair of "scantily clad" women were spotted on CCTV skulking around corridors prior to the robbery.
Punters robbed by half-naked workers in their bedrooms? There's a name for those sort of 'hotels.'
This post, written by Josh Burt, is republished with permission from The Spoiler. Go there often if you like soccer stuff.