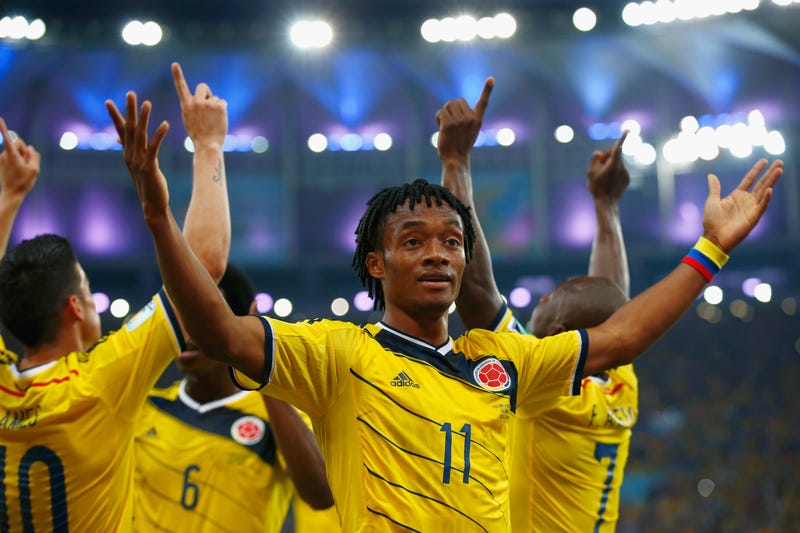 Click through the countless pages of Google search results and you'll eventually find a short video of how the Colombian national team has prepared for their World Cup last 16 clash with hosts Brazil.
"We're going to scare little (Pablo) Armero," James Rodríguez and his teammates declare to the camera, before Juan Cuadrado jumps out from behind a hotel room curtain to give the defender one helluva shock.
It's quite apt, given how Colombia have emerged so emphatically as the tournament's surprise outfit. Of course, José Pékerman's side was widely tipped to do well in Brazil this summer, but it is the manner with which they have made the quarter-finals that has provided their boldest statement of purpose.
Los Cafeteros (which literally translates as 'The Coffee Drinkers') are no longer seen as tournament outsiders. Some wholly expect Colombia to batter past Brazil with the same swagger as they did Uruguay in the round of 16.
Colombia's rise has been embodied by Rodríguez. It was going to take something special to cast Lionel Messi and Neymar in the shadow of the World Cup they were fated to dominate. That 'something special' has come in the lithe form of Rodríguez, who leads the tournament in scoring with five goals. His volleyed strike against Uruguay will go down as one of the defining moments of this World Cup.
But while Rodriguez has been the headliner, Cuadrado has been a shimmering supporting act. In fact, it could be argued that the winger is just as important to Colombia's hard and fast counter-attacking identity. Sure, Rodríguez is Colombia's leading man, but Cuadrado is a supporting pillar holding up the entire structure of the team.
Cuadrado wasn't even a starter for Colombia under former coaches Hernán Darío Gómez and Leonel Álvarez. It was only with the appointment of Pékerman that the winger became an integral component of the mean, rapid breaking machine.
The trajectory that has taken Cuadrado to his current crest can be traced back to a loan spell at Lecce two years ago. Having arrived in Italy as a right-back, it was at the Southern Italian club that Cuadrado began to realize his attacking potential.
By the time he'd moved to Fiorentina, Cuadrado was the thunderous, swashbuckling winger we now see before us. His goal in the Coppa Italia semifinal against Udinese last year demonstrated everything that he has become, storming down the right side before unleashing a diabolical strike into the net, grazing the underside of the crossbar.
Yet Cuadrado isn't just a stylish and crafty player specializing in moments of bombastic spectacle, like the one he provided against Udinese. He also accepts his defensive responsibility, grabbing a shovel when need be, and throwing it aside when Colombia snaps on the break. He is an individual but also central (in everything but position, of course) to the makeup of the team.
The knee injury suffered by Radamel Falcao in January was regarded as a near fatal blow to Colombia's World Cup hopes. Indeed, it forced Pékerman (who accepted Colombian citizenship on the eve of the tournament) to be more inventive. Without the commanding, physical presence of Falcao in attack, Pékerman had to completely overhaul his tactical ethos.
No longer could he rely on the alpha-male aura of his only truly world-class player. Not only did Pékerman have to restore the innate self-assurance that had carried his team through qualification, but he also had to compensate for the goals lost through Falcao's injury.
Any team would be worse off for the absence of a player like Falcao, but by placing more emphasis on the surging runs of Cuadrado and the energy of Teó Gutiérrez, Pékerman has actually brought his frontline in line with the rest of his side. Colombia might not be an altogether better side without Falcao, but they certainly seem more coherent.
Pékerman has experimented with a number of different formations all the way through the tournament. He has switched from 4-2-3-1 to 4-4-2, and back again. But through it all, there has always been a place for Cuadrado. There has to be.
Of the eight sides that make up the quarter-final lineup, Colombia are the only yet to break a sweat. But having clobbered Greece, Ivory Coast, Japan and Uruguay to get to this stage, Brazil represents a significant step up in quality.
"The key to this game is that we do not betray our style," Cuadrado explained ahead of the game against Brazil. "That we do not compromise."
True to Cuadrado's words, Colombia must commit to the philosophy and approach that has taken them this far. Brazil's relative weakness at full back areas could see the Fiorentina winger burdened with even more tactical consequence.
The omens are good for Colombia. Of the last seven teams that have knocked Brazil out of the World Cup, six have gone on to reach the final. That statistic, plus their side's form up until now, is enough to make any Cafetero giddy, no coffee needed.
Cuadrado won't be able to leap out from behind a curtain against Brazil, like he did to an unsuspecting Armero, and given how well the winger has played at this World Cup he can no longer boast much of an element of surprise.
But that's not to say the marauding winger won't give Brazil a fright.
---
Graham Ruthven is a soccer writer covering a wide range of subjects across the sport for outlets like The New York Times, ESPN, MSN, Eurosport, and Scottish TV, among others. He is a curator of football shirt (the more garish the better), an apostle of Dimitar Berbatov, and still maintains Dennis Bergkamp didn't mean it. You can follow him on Twitter, @grahamruthven.
Screamer is Deadspin's soccer site. We're @ScreamerDS on Twitter. We'll be partnering with our friends at Howler Magazine throughout the World Cup. Follow them on Twitter, @whatahowler.
Photo credit: Getty