You had to know Vitale would have a chubby for Tebow, the embodiment of heart. It was inevitable. The college basketball sportscaster chimes in today with an unbearable column about why Tebow should be taken high in the draft.
The NFL draft is coming up this week and all of the experts have been chiming in. Yes my friends, we have seen all sorts of evaluations and debates over the top picks and which players will have the greatest impact.
Whether it is Mel Kiper, Todd McShay, Jon Gruden, Herm Edwards, or someone else, let me tell you, they do their homework. All the football experts put in so many hours, breaking down the strengths and weaknesses of the draft prospects.
But all those experts (not sure why Gruden and Herm are in here), with their "homework," and "knowledge of the game," and "history of evaluating prospects" are wrong.
It is so difficult when the talent is so close in the evaluation process. But I believe that a number of NFL teams will look back and realize they made a mistake by not grabbing Tim Tebow in the first round.
G/O Media may get a commission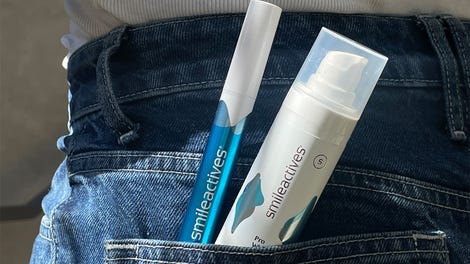 58% off
Whitening Powerhouse Pen & Gel Duo
I am hearing people say that Tim Tebow will go in the third round, but there is something about that kid that you can't teach. He is a winner with a fierce, competitive drive to be the best he can be.
So he wants to win? I'd love to be an NFL quarterback too, but it's not going to happen.
He is so durable, too — he has a great body and the ability to take a pounding.
He might not be able to get a pass off before being crushed, but at least he won't take up a valuable IR spot.
His physical nature tells me he can get the job done at the next level.
If I was a coach, I would love to have a player like him on my team. You can talk about his mechanics and bring up his flaws,
"You can tell me over and over again about how he can't throw a proper pass."
but he is a player who wants to learn and get better. You can rectify those problems,
Unless you can't.
but you can't make up for a guy who has no heart and desire, especially after he gets the cash in his pocket, baby!
And what other prospects have a mosaic of them made of 46,000 colored BBs?
People don't understand what is in the heart of a competitor at times. If you think back to the NBA selection process last summer, it is surprising that No. 2 overall pick Hasheem Thabeet was sent to the D-League this season. He was not the player that Memphis thought he would be, and a lot of people had him highly ranked.
Then you look at Tyreke Evans, who became a dominant force in the NBA, averaging 20 points, 5 rebounds and 5 assists. He joined some pretty select company in Michael Jordan, LeBron James and the Big O, Oscar Robertson, to put up those kind of numbers as a rookie.
Tyreke Evans, as ESPN's own pre-draft analysis shows, was never pegged as a third-round guy. In the NBA, that's not even in the draft conversation.
Also think about what Brandon Jennings meant to Milwaukee. Or Stephen Curry having such a solid season in Golden State.
Again, both highly-regarded before the draft. Projected high first rounders, unlike Tebow. An irrelevant comparison.
Those athletes who get the money and run don't have what it takes to be a classy pro. They hit the nightclub scene and go out and party. To me, Tebow is the kind of guy you want, no matter what the sport is. He is the kind of guy who can take his team into the winner's circle.
So he won't rape anyone in a bathroom? Sounds like a Super Bowl caliber quarterback to me!
Tebow is a pure competitor, winner [ESPN.com]