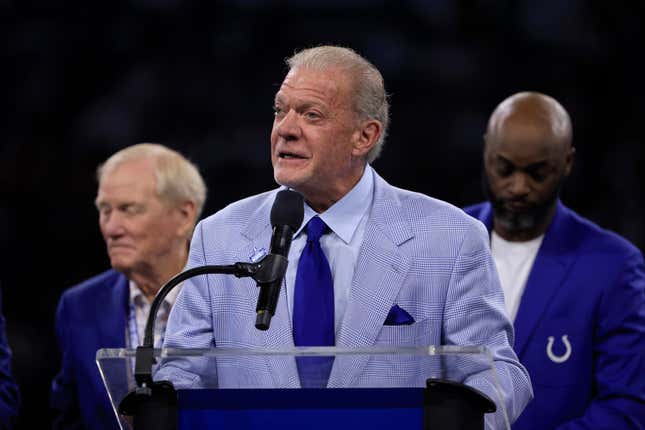 By complaining about the Washington Commanders' attempt to woo Andrew Luck out of retirement, owner Jim Irsay only served to further guarantee that the former Indianapolis Colts quarterback stays gone. If you have an IQ high enough to open a refrigerator, you know not to act like a possessive child, but once people reach a certain tax bracket, they regress to petulant brats.

Black Quarterbacks = Big NFL Ratings | The SEO Show
How else do you explain Irsay attacking an ownerless team for trying to sign a player that no one has seen, much less talked to, since he peaced out four years ago? The rest of the world read the rumor about the ghost of NFL Past trying to lure Luck to his abhorrent franchise, and laughed at the absurdity of a player, with that talent and intelligence, coming back to play under Dan Snyder.
Congrats on owning the rights to your retired QB, I guess
Not Irsay though. He feels entitled to… recourse not yet outlined? A harsh memo from the league office? The right to be the only owner to grasp at that particular straw? I don't know the point of his tweet other than to remind people that the Colts were the team Luck voluntarily walked away from, and that they also were too stupid to try to recoup his $24 million signing bonus.
This is the kind of non-story that gives NFL zealots a reason to shout about the Shield being the only real yearlong sports league, and I couldn't be more upset with myself for taking the bait. However, ripping Irsay is quite tempting, and apparently alluring enough to get me to write about football in early May.
So I guess Jim Irsay really is charismatic (toxic?) enough to get somebody to do something. You hear that, Andrew? Expect an Edible Arrangement any day now.