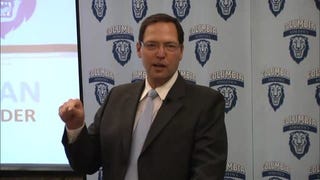 According to a press release from Columbia's university president, head football coach Pete Mangurian, who has led the Columbia football team to 21 straight losses and was recently accused of ignoring concussion diagnoses and being physically abusive by 25 of his players, has resigned.
From the press release:
"I have accepted Pete Mangurian's resignation because we have all come to the conclusion that it would be in the best interests of Columbia Athletics," said Bollinger. "Under Dianne Murphy, Columbia teams have built a new winning tradition across our men's and women's sports and we expect no less of our football program. We are committed to providing our dedicated student athletes with the best possible opportunities to succeed both on and off the field. So we will now look forward to completing consultant Rick Taylor's expert review of our football operations that will help us chart a new direction under a new coach."
Below is our post on Mangurian from yesterday.