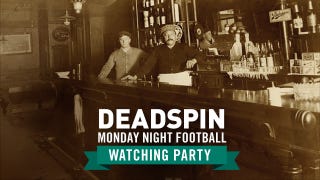 Or some black guy in a hat who vaguely resembles Mike Vick. Nude Mike Vick or not, it'll still be a splendid night to hang out at our new locale, the Bleecker Street bar, and watch The Dream Team battle the Chicago Bears.
The Place: Bleecker Street Bar, corner of Bleecker/Crosby btw Broadway and Lafayette.
The Time: 7:30 until the game ends
Just say you're there for the Deadspin thing to somebody who looks like they're there for the Deadspin thing and maybe you'll make a new friend. It is a cash bar because bars need to eat, too, you know.
****
If you come or not, thanks for your continued support of Deadspin. Let's all get together soon. Come back tomorrow and for Tim Burke and Sean Newell's LSU/Alabama hump-a-thon.