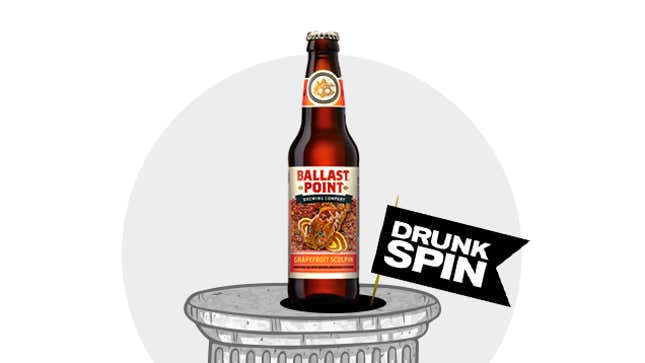 Beer is very useful. In just the past few days I have relied on beer to help me relate to my fellow man, to make college basketball interesting, and to wean me off my Tylenol PM addiction. Beer can also be used to liven up an otherwise limp pot of whatever-bean chili, to repair a dicey relationship with your mail carrier, or to flaunt your twin triumphs over gluten and sobriety. Beer is also quite often delicious. This is why beer is the best, and as such ought not be fucked with.
Air Jordans are more American than McDonald's French fries | Deon Cole's Ultimate Sports Fantasy
Beer can help elevate the rest of life's nouns, but the relationship really should be a one-way street. Generally speaking, beer doesn't need any assistance. This is why you shouldn't insult it with a frosted mug, a diet-based marketing plan, or any kind of -A-Ritafication. The ultimate testament to beer's superiority over other earthly creations is that Bud goddamn Light tastes better in its natural state; the addition of lime and other fruits actually diminishes the quality of one of the world's least excellent beers.
This is why I'm not real jazzed about the radler/shandy movement that's been gaining steam the past couple of years. These affronts to beer are made by adding fruit juice or soda, usually citrus-flavored, to perfectly good light ales and lagers. The words are used interchangeably; let's stick with shandy here, out of respect for the fantastic Radler cocktail at New York's now-closed Vandaag restaurant, a deeply weird Scandanavian place that combined aquavit, ginger, pineapple, lime, and beer into a drink way too effective to be lumped in with the weenie-juice breweries increasingly pump out under the same name.
"Radler" is the Bavarian word for bicylist; I guess German bikers who need to stay upright throughout the riding day like to soften their beer with lemonade. While I admire their commitment to beer—a lesser and more sensible cyclist might just hold off on the alcohol altogether—I can't abide importing this aspect of the otherwise redoubtable Teutonic drinking culture.
There are some tolerable shandies out there—Narragansett's Del's Lemonade is pretty good, as they go, and I can manage the odd pint of Harpoon's Big Squeeze—but none of them are as good as the beer they're based on. The better shandies tend to be low in alcohol, because they're built by blending a fairly weak beer with honest to goodness citrus juice. The ones that retain something like their forebeer's original alcohol content do so by relying on shitty chemical flavor squirts that take up less room but also taste cheap and sugary at best.
I say all this as a great advocate of citrus and experimentation. It's possible I could get behind a real tough-guy imperial IPA that's cut with a few ounces of grapefruit, but I've yet to come across a commercial version. Instead we're inundated with childish soda pops or juiced-down beers that would be more honorably packaged in cardboard boxes.
Ballast Point's Grapefruit Sculpin isn't classified as a shandy, but it tastes like the best possible version of one. It's nothing more than the excellent Sculpin IPA that made the company famous brewed with a high dose of grapefruit flavor. It's not diluted by juice or debased by the tackier chemical flavorants, allowing Grapefruit Sculpin to retain the original's definitive IPA character and 7-percent ABV. (Note: the original version of this post said Grapefruit Sculpin was brewed with grapefruit zest, because that's what I thought I remembered reading on their website. I was wrong; they instead refer to some potentially nefarious "grapefruit flavor" that, despite potentially shadier origins, still tastes real and great.)
Grapefruit Sculpin smells remarkably fresh, much closer to hand-squeezed grapefruit juice than to any bottled version. When I poured it into a glass, it smelled like I was continuing my passive-aggressive war with the landlord via grinding a grapefruit peel in the garbage disposal to help cover up various of life's other smells. The beer's initial aroma is all fruit, but then a nearly equal measure of pine emerges, along with light crackery malt. The pattern holds come drinking time, with strong grapefruit leading the way before light flowers and tropical fruit join deep evergreen notes; dank, earthy pine resin dominates the long, surprisingly dry finish.
This beer has a great if somewhat simplistic aroma that turns into an even better, much more complex flavor. The grapefruit flavor enhances rather than hides Sculpin's classic fruit character, and the bitter pine edge remains intact throughout. Like the original Sculpin, the Grapefruit version costs a couple bucks per six-pack more than the competition, but it's worth it. If standard shandies are nice little alco-juice treats for people who don't really like beer, then Ballast Grapefruit Sculpin is the best way for a diehard beer lover to get a bit more citrus in her life.
---
This is Drunkspin Daily, the Concourse's adequate source for booze news, reviews, and bullshit. We'll be highlighting a beer a day in this space; please leave suggestions below.
Will Gordon loves life and tolerates dissent. He lives in Cambridge, Mass., and some of his closest friends have met Certified Cicerones. Find him on Twitter @WillGordonAgain. Image by Jim Cooke.
The Concourse is Deadspin's home for culture/food/whatever coverage. Follow us on Twitter.