Last Saturday, Buffalo hosted its first UFC event since 1995, and Long Island's very own middleweight contender, Chris Weidman, got to fight Gegard Mousasi in a co-main event bout. Mousasi was introduced by Bruce Buffer to a light smattering of boos, while Weidman was hailed with deafening chants of "U-S-A! U-S-A!" He fought like the favorite early on, taking Mousasi down three times in the first round and avoiding getting his block knocked off.

Mousasi leapt into the second round a changed fighter, landing a handful of strikes on Weidman before trying out a takedown of his own within the first 35 seconds of the round. Weidman regained control and worked into full mount. Somehow, Mousasi scrambled free, then all hell broke loose.
Mousasi had Weidman in the clinch and he sent a pair of vicious knees right to the American's dome. Referee Dan Miragliotta stopped the fight and deemed the knee strikes to be illegal, assuming that Weidman had two hands on the ground at the time. He gave Weidman five minutes to recover, although subsequent replay showed that Mousasi lifted Weidman before striking him, making both knees legal hits. The referee then informed Weidman that he'd been smacked with legal hits, and doctors ruled Weidman medically unable to continue, awarding the win to Mousasi.
However, instant replay review is not legal under New York State Athletic Commission rules, so Miragliotta never should have been allowed to ask fellow UFC referee John McCarthy to check the tape. After the chaotic ending to the fight, officials met and argued for five minutes before Mousasi was awarded the win. He pushed away a member of his corner who came into the octagon with a celebratory Armenian flag and offered a sheepish half-apology to Weidman for the inexplicable end to their fight. In the customary post-fight interviews, Joe Rogan made Mousasi and then a visibly frustrated (and bloodied) Weidman watch the replay of the knee strikes, after which the New Yorker gave an incoherent speech about wanting to show the crowd how to come back from tough times.
In the days since, the dust hasn't exactly settled. Weidman announced that he would appeal the TKO loss, citing the confusion that allowed officials to make use of an illegal replay review:
"Pretty much for the whole time, [Miragliotta] was telling me 'illegal knee,'" Weidman said at the post-fight press conference. "I thought I was going to win because of the illegal knee. Then they looked at a replay, they left the Octagon and looked at the replay and see the legal knee, but in the state of New York, you're not allowed to look, there's no replays. It's a crappy situation."
G/O Media may get a commission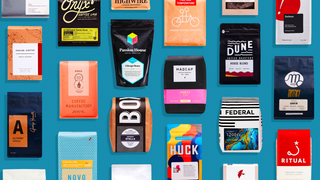 Get $25 free
Trade Coffee - National Coffee Day
Weidman says that he was trying to land both hands on the mat as Mousasi was kneeing him, and even though he failed to do so, most state athletic commissions changed their rules for 2017 to legalize kneeing an opponent in the head if they have just a single hand down. He's calling for an immediate rematch with Mousasi.
For his part, Mousasi sounds fairly nonchalant about the whole affair, saying that he'd be up for a rematch on his home turf if he can't secure a title shot against Michael Bisping. He also noted that Weidman was visibly tiring before the knees and claimed that his opponent was "trying to find a way out."
"I don't make the rules. It was legal and I felt he didn't want to continue," Mousasi continued. "I think everyone saw that. He didn't want to continue. How is that my fault? I don't give a fuck, I won. I like the guy, he's a tough opponent, but at the end of the day, he didn't want to fight. I felt he was getting tired.
Audio from Weidman's corner revealed that Weidman was very shaken up by the knee strikes and didn't know what month it was after stumbling back over to his trainers. Mousasi's UFC contract is now up, which could complicate prospects of a rematch even further. After the fight, UFC czar Dana White expressed his displeasure with the NYSAC, saying "it's like we're back in 2001 again." White also pointed out that the confounding regulatory inscrutability baked into the structure of the UFC means that bizarre endings like the one that happened this weekend are perhaps unavoidable as long as judges, referees, and state athletic commission officials can't agree on the rules. Of all the SACs, New York's is the newest to MMA, so even if Weidman is granted a rematch with Mousasi, it sure as hell won't be in New York.