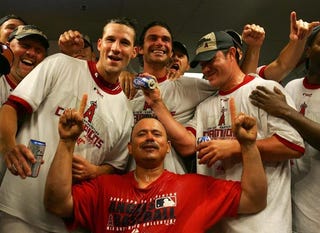 Because the "name change" of this Anaheim Angels was a dirty trick to sneak further into the Los Angeles market while adhering to contract obligations to keep Anaheim in the name, we will always refer to the franchise by its full, official, annoying name. (We think they should change it to, "The Assassination of Jesse James by the Coward Robert Ford.") Regardless, they're division champions, and they deserve the salute that comes with that.
Checking in with Halos Heaven, we appreciate the "enjoy the moment" nature of the celebration.
This might be the only time, this might be your last time; regardless, this is it. There is only now. Your team is in it. You have earned this, but it is all you have earned. There are no guarantees. A generation or more of your family can live and die under the same roof, going to games of a team that will never surpass second place, never know what it is like to live after a season has died. Your memory of this moment may be all they have, all that ever gives them hope.
Right now, all we know is that the Yankees really, really don't want to play Anaheim again.
Final Thoughts After Qualifying For The Post-Season [Halos Heaven]
(Getty Images Photo)