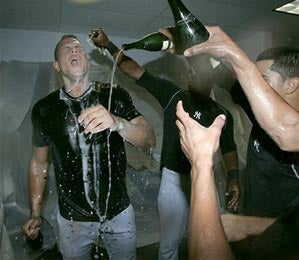 We're not sure what we can add to this photo. It's all yours. But we are curious: Wasn't it a little weird to see the Yankees celebrating so manically?
That is to say: Isn't this team three games behind the Red Sox? They're still in the race, after all; technically, the Red Sox clinched the wild-card a few days ago. Maybe they just don't like alcohol over there. Not that we wouldn't enjoy a "GUARANTEED THE WILD CARD AT LEAST" Red Sox T-shirt.
It just seems bizarre to see a team that's still, technically, in a division race celebrating before the team they're chasing. We know all that really matters is that you make the playoffs, but this is kind of like breaking out the bunting and streamers when your team is down 7-4 in the ninth.
We think it was just an excuse to do that to A-Rod.