Connor McDavid had three points and the Oilers lost by four. I can't think of a better way to sum up this season in Edmonton.

It was Fan Appreciation Night, and the Oilers showed their fans just how much their appreciate them by taking a 3-0 lead in the game's first 10 minutes before promptly allowing the Blue Jackets, still contending for a playoff spot, to score the next seven, including a hat track by Thomas Vanek.
You can feel the frustration:
"It was awful, horrible," McDavid said of his team's collapse. "We had the good start tonight and then the game just went right back to where we were at during the start of the year."
McDavid picked up his 100th point of the season by assisting on a Ryan Nugent-Hopkins goal, and then, 2:29 later, got No. 101 on a shorthanded goal of his own.
He'd rack up point No. 102 with an assist four minutes later. And then everything fell apart.
G/O Media may get a commission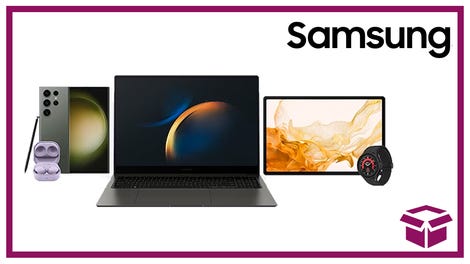 24 hour deals
Discover Samsung - Daily Deal
McDavid's incredible season is even more incredible given the Oilers' horrible season. (And, I suppose, the reverse is true: Edmonton's lost season is that much more inexplicable for having the world's best hockey player.) So let's appreciate just what he's done, even as we can lament how badly he's being wasted, and how he'll and we'll never get this prime season back.
McDavid now has two 100-point seasons in his three-year career. That's exactly as many 100-point seasons as the rest of the NHL has combined since the last lockout.

With his 40th goal, McDavid became the first Oiler to reach that mark since Petr Klima in 1990-91.

McDavid isn't padding his numbers on the power play, either; just 18 of his 102 points and five of his 40 goals have come on the man-advantage.

McDavid, with a six-point cushion in the field, seems set to win his second straight scoring title. He'd be the first NHL player to win back-to-back Art Ross trophies since Jaromir Jagr did it four straight years beginning in '97- '98.

I know I sound like a broken record, but Connor McDavid is just 21 years old and is a generational marvel and I wish someone would save him from Edmonton. (Or, rather, since he's signed through 2026, I wish someone would save Edmonton from themselves.) I also promise this will be the last time this year I mention him in conjuction with the Hart Trophy, because—and this is entirely separate from whether he should win it or not—he's not going to win it. This, though intended to be facetious, pretty accurately sums up what appears to be the prevailing take on McDavid's MVP candidacy:
And I do get it. Even if the pedant in me thirsts to point out that there have been plenty of McDavid three-point nights that the Oilers have won by one or two. (And that in a broader statistical sense, games like yesterday's do have value.)
But as long as the Hart goes to the most "valuable" player and not the "best" player (that's the Ted Lindsay Award, but no one cares about that), McDavid is not a realistic Hart candidate. Some percentage of the electorate will just never vote for a player on a team that doesn't make the playoffs, and for those voters not quite so wedded to that unwritten rule, there are plenty of really excellent candidates on playoff-bound teams. The last MVP on a team that missed the playoffs was Mario Lemiuex exactly 30 years ago, and he led the rest of the league by a whopping 14 goals and 19 points. That's definitely not the case here.
Ultimately, it doesn't matter. Hardware doesn't change what type of player McDavid is or the season he had. Much more real and frustrating is the Oilers denying us getting to watch McDavid in the playoffs.