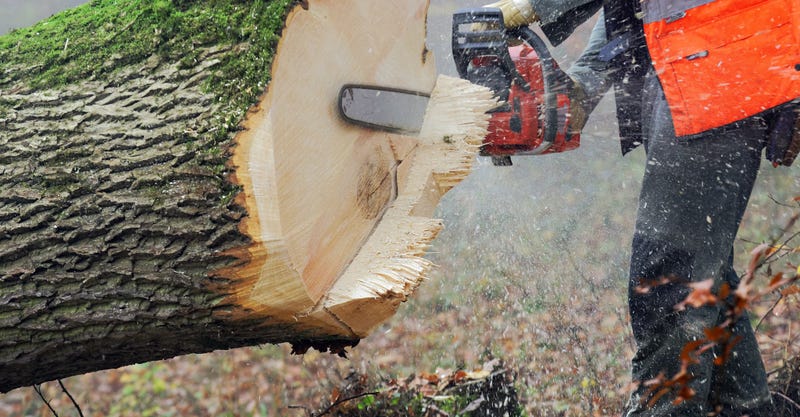 In what's probably the most Canadian sentence I will ever write, the Edmonton Eskimos have successfully lobbied the Canadian Football League to restrict the Ottawa Redblacks from bringing along the loggersports team that traditionally saws off a celebratory log slice after touchdowns. The Grey Cup takes place this evening in Winnipeg, and Algonquin College's logging team is already en route, but they will not get to do their thing (logging).
The Ottawa organization and canoe.com are pretty fed up about it:
"That Loggersports team is part of our brand, it's part of our identity, it's part of the tradition we're trying to create," said Ottawa Sports and Entertainment Group president of sports Jeff Hunt. "To not have it in the Grey Cup, this is something where I think we've lost and I don't know who won. They felt it was an unfair competitive edge. I'm actually surprised, what's all the fuss about?"

It's petty, it's silly, and it's bullying by an organization strongarming the CFL, which said in a statement: "The league supports and encourages the presence and participation of the Algonquin Loggersports Team on the field at the Grey Cup game. However, in response to concerns raised, and as the game is intended to be at played at a neutral site, the touchdown celebration that normally occurs at RedBlacks home games will not be allowed between kickoff and the final gun."
This is understandable from Edmonton, but I have a proposal: just get a lumberjack team of your own! That would be quite the move, stealing your opponents' gag. Instead of the deafening silence of someone not sawing a log segment off after a TD, you'd get an arms race of sawing prowess. Which would be a rather regionally specific way to commemorate the Grey Cup.
[Canoe]
Photo via Shutterstock, h/t Richard