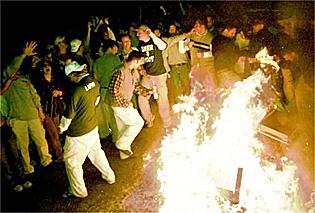 It's interesting that the East Lansing police are characterizing 60 arrests and "three fires, believed to be ignited on couches," as a peaceful demonstration. What does it take to get classified as a riot?
The ELP are girding for unbridled mayhem tonight whether Michigan State pulls out a win over North Carolina in the championship game or not. They're deploying about 230 officers on the streets of East Lansing. Lowering expectations is a game that this department plays well; here's what they described as "peaceful" following Saturday's MSU win over UConn:
People were arrested for a variety of offenses, including throwing objects, indecent exposure, attempted arson and assault. Several couches were set on fire shortly after MSU's win, but were quickly extinguished.

Authorities say several couch fires were extinguished in the 500 block of Stoddard. They also responded to reports of students hanging off street lamps.
By comparison, there were only 24 arrests made in 1999 in what CBS News described as "a riot" following the Spartans' loss to Duke in the semifinals.
What can stem the mayhem this time? Don't worry, everyone; Mitch Albom is doing all he can to dampen the mood:
It will not save us. No basketball game can do that. No matter who wins Monday night, Tuesday morning the jobs still will be gone, the factories still silent and empty, the houses still for sale or abandoned altogether. The out-of-town media who see a national championship tonight at Ford Field as some uplifting salve for downtrodden Detroit are a bit misdirected.
My big question in all of this: Where the hell is Robocop?
MSU Die-Hards Revel In Saturday Win, Gear Up For Monday Night [Detroit Free Press]
East Lansing Police: 60 Arrested In 'Peaceful' Celebration [Lansing State Journal]
EL Police Brace For Title Game [Lansing State Journal]
Pride Not Pity Should Be Detroit's Finals Legacy [Detroit Free Press]