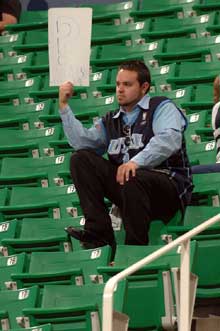 Now that the Eastern Conference Finals are heating up — as much as anything post-Golden State in this playoffs has been able to "heat up" — the Western Conference can wrap up tonight, with San Antonio finishing up the Manu-ization of the NBA. There won't be as many Jazz fans to throw Blistex at Bruce Bowen this time, and that's for the best: That shit is addictive.
We are doing the best we can to agree with what Bill Simmons said in his chat yesterday: The Spurs are more enjoyable to watch than they have been given credit for. We guess. We're still spoiled by the Warriors, it's true.
We'll just take a moment, as Illini, to salute Deron Williams, who has become a superstar in this series; he's still feeling a little gimpy, but we suspect he'll be able to make it out. MJD at The Fanhouse argues that he might be better than John Stockton someday, and we'll be happy to say we knew him back when.
Pounding The Rock
The Debriefing [The Fanhouse]