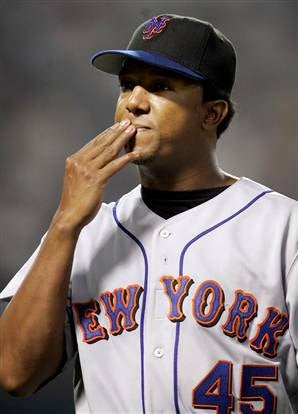 First off, all of you Mets fans who are saying "Pedro who?", just stop it. Pedro Martinez, who is on the verge of returning to New York's starting rotation, says that this season might well be his last. And you don't know it now, but you'll miss him when he's gone. Yes, you will.
"It's taking a toll on me and my family, my dad's situation," Martinez said, referring to a form of brain cancer afflicting his 78-year-old father, Pablo. "I haven't been there for them. I just realized that between last year and this year I haven't been there for my family, my parents.

"That'll probably drag me away from the game a little sooner than people expect. After this season, I'm going to go back home and think about it and I'm going to decide."
Martinez, recovering from a hamstring injury, will meet the team in Atlanta today to throw in the bullpen, and may make a start on Monday at Shea against the Marlins. The three-time Cy Young Award winner is only 12-9 since 2005, and has appeared in only one game for the Mets this year. But even though he has rarely been around recently, I've always enjoyed the idea of Pedro Martinez as a Met, and it would be a shame to see him go.
Pedro Martinez Mulls Retirement At End Of Season [New York Daily News]