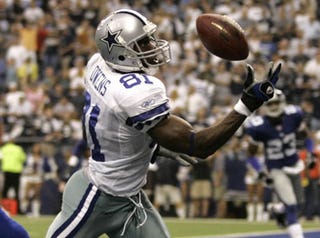 There must be a hundred reasons why the Dallas Cowboys' 2008 season was an utter failure, but after thinking it over it seems that Jerry Jones has decided to blame it all on Terrell Owens.
Not that he didn't deserve a significant chunk of the blame. He fought with teammates—when he wasn't crying sympathetic tears for them—schemed behind their back, accused them of scheming behind his, and basically created giant unnecessary distractions. Oh, he also played football and had a decent, but somewhat disappointing season. So just one year into his four-year contract, Jones would prefer to eat the $9 million salary cap hit rather than keep Owens around for another game. I'm sure that will solve everything.
So where does Owens go next? He's too good to not play somewhere, but everyone seems to agree that the Raiders are the most obvious fit. Shouldn't the most insane and dysfunctional team have the league's most insane and dysfunctional player?
So we're all agreed then?
* * * * * *
Here's what some other bloggers who stay up much later then we do had to say:
• Might go insane?: "I'm actually sort of worried about the guy. Without football or a similar venue to catch the public eye, he might go insane. He'll just randomly show up at ESPN asking if they need him for an interview. Then he'll hang around the Today Show, hoping Al Roker will talk to him on camera. Eventually, he'll film his own show in his basement and convince himself that it's airing nationally. [Bootlegger Sports]
• But he has the former Lion swagger: And the Cowboys, thinking they have the answer with Roy Williams (WR version) are clearly putting their eggs in that basket. Nevermind Williams was slightly less than an afterthought in the Cowboys offense last season. Sure, he wasn't in camp with the team and didn't already have the rapport with QB Tony Romo, but he's got a long way to go to match the productivity Owens provided Dallas the last three seasons. [No Joshin']
• Tradition maybe; pride left town a long time ago: I for one think this is a great move by the Cowboys. It proves several things, and the most important is there are people at Valley Ranch that still have a back bone. The Cowboys have too much tradition and pride to give it away to any player, especially to a player that loves him some him so much, he claimed Romo and Witten had a thing going on. [Lewp's Weblog]
• Good times: Here's some of T.O.'s greatest hits. [Gunaxin]
• ESPN does lover murder: "Asked about T.O.'s next stop in the NFL, ESPN's Keyshawn had this to say (It comes at the very end of the clip):
"If Charles Manson could play football, believe me somebody will try and sign him."
Yikes! Comparing T.O. to a mass murderer. Thankfully Cris Carter, of the bullet theory, didn't make it on the air last night. Remember this Carter gem: "If it was me, I'd get rid of T.O. T.O. got to go from the beginning. Right from the giddy up. I take one bullet and put it right in him. Bam!" [Dallas Morning News]