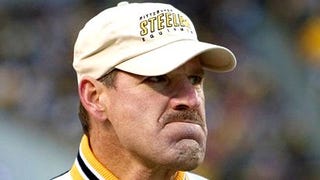 I'd always thought that Bill Cowher looked the most natural in New York, where his scowl seems the most at home. Now, he and the Jets are talking, apparently.
Cowher, of course, will and should demand the moon; including a new quarterback, one would imagine. I just don't see Bill living through another will-he-or-won't-he offseason Favre retirement drama. From the New York Daily News:
The Jets are interested in former Steelers coach Bill Cowher, and Cowher is interested in talking with the Jets about their head-coaching vacancy. The Jets and Cowher have agreed to meet to discuss the job, a team source said. It's unclear when that meeting will take place. A potential obstacle in a Jets-Cowher marriage could be the role of GM Mike Tannenbaum. Sources say Cowher would want to bring his own personnel guy.
Apparently Newsday's Bob Glauber had the story first, which did not please either ESPN or Mike Francesca.
Meanwhile, the Daily News is also saying that, after having been rebuffed by Cowher, Browns president Randy Lerner will contact deposed Jets head coach Eric Mangini about taking the Browns job. And just to keep the revolving door moving, let's move Romeo Crennel to CBS to replace Cowher.
Eric Mangini Could Replace Romeo Crennel With Cleveland Browns [New York Daily News]
Jets, Bill Cowher Agree To Discuss Coaching Vacancy [New York Daily News]
Source: Jets Still Pursuing Cowher [Newsday]
Cowher Reportedly Still Will Interview With Jets [NBCSports]